ANSWER TO YOUR QUESTION
Dear Devdutt,

Currently, you are under the influence of the Venus major period and sub period Venus. Venus is placed in the 6th house of disputes in your chart. Also, Ketu is the separative planet and the current transit of Ketu is over the natal Venus. This has created problems in your married life. Your overall planetary combinations till October 2024 indicates problems at the marital front and you will have to handle the marital issues with patience. You should take care about what you speak as your aggression can spoil your married life. The positive influence of the transiting Jupiter will help you in resolving conflicts; however, you will have to avoid aggressive debates and you should also compromise a little bit during this phase and you will be able to find a way out. The suggested remedies will boost your fortune in this regard.

With Ganesha's Grace,
The GaneshaSpeaks Team
DETAILED MARRIED LIFE PREDICTION
JANUARY - JUNE'24
Currently, you are under the influence of the Venus major period and sub period Venus. All kind of communication will play a major role in your married life. There are chances of ego conflicts and hence both of you will have to control ego. You may speak something very aggressively which can create problems for you. The positive influence of the transiting Jupiter will help you in resolving conflicts at the marital front; however, you should also remain ready to 'let go' things which will help you in resolving conflicts. You should not force your partner to agree with you else it will result in conflicts. You may have to give some time to your partner.
JULY - DECEMBER'24
During this period, some deep rooted problems and hidden resentments may disturb you. Impatience will be brought on and there can be some distance in your relations with your partner. This phase will make you uncomfortable as your partner may differ with you on many issues. Your emotions will be strong hence you will react strongly during this phase. You may become compulsive or demanding and your stubbornness may cause differences with people around you. It would be advisable to understand the emotional needs of your partner which will help you in avoiding conflicts during this period.
PERSONALIZED REMEDIES
The Primary Solution: The Ideal Most Gemstone For You
After wearing this empowered
Emerald
gemstone, you are likely to remain involved in gaining knowledge and mental development for many years. As it is your functional benefic planet, your wealth will also increase and you will also accomplish your undertakings successfully and on time. It may also increase the material comforts and pleasures in your life. Overall, this may provide ease of working and general good fortune to you. Most positive side of wearing this gemstone is, you would not run short of money and will also have substantial financial gains at regular interval.
Please Note: For a limited period, we are offering the beautifully designed Panchdhatu Ring, absolutely free of cost! It means, now you only have to pay for the Gemstone!
The Energization of the Gemstones
It is important to note that a gemstone is powerless unless it is energized in a correct manner. The gemstone needs to be purified and made free of all impurities, before you can wear it.
But, you need not worry about the procedure and rituals, as, we at GaneshaSpeaks.com, have developed a traditional and authentic method to cleanse, energize and attune a gemstone, specially for you! It is based on our deep research and understanding of the Vedas and the related astrological scriptures.
So, the gemstone that you order, WILL BE READY TO WEAR!
Personalized Puja for you:
Further, we also recommend you to avail our Mangal Ketu Angaraka Dosha Nivarana Puja Service which is essential to pacify the malefic effects of Mangal – Ketu Angaraka Dosha.
Introduction
Though, planet Mars and Ketu happen to be very similar in nature, this combination of these two is not considered to be an auspicious one. Apart from the qualities like courage, determination, confidence among various others, planet Mars represents the areas like anger, impulse and speed. The connection with Ketu amplifies the negative energies of Mars, and often it is seen that it gives rise to the destructive tendencies. On some occasion, you will get compelled to act insensibly and without due forethought, because of which you may have to repent later.
How it works ?
Mangal Ketu Angarak Dosha Nivaran Puja includes the Puja of Kalash and the other five important deities, namely, Ganesh, Shiva, Matruka, Navagraha, and Pradhan-Devta. Puja involves chanting/ reciting Mangal (10,000 times) and Ketu (17,000 times) Bija Mantra. Then, ""HOMA"" (Havan) ritual is performed wherein, Ghee, Seasam, Barley, and other sacred material related to Lord Mars and Ketu will be offered to Agni while reciting 1,000 Mantras of Mars and 1,700 Mantra of Ketu. Yagya / Homa is a significant remedy to remove the evil effect of the Angarak Dosha in your chart. To get maximum positive results, Puja will be performed on the nearest best Muhurat i.e in a Nakshatra of Ketu or Mars and on Tuesday. To complete the Puja during the Muhurta, GaneshaSpeaks will appoint a team of 4 priests led by an Aacharya who are masters of the Vedic rituals.
Link :-
Click Here
Benefits of this Devdutt
- Remove the negative influence of Angarak Dosha
- Control pride and overcome arrogance
- Maintain harmony and prevent family disputes
- Save you from accidents and misfortunes
- Destress and improve your relationship
- Control your anger and slow down impulsive decisions
Our Solution Experts can help you in clearing your doubts or concerns related to predictions or remedies. To contact us on Email, click here.
With Ganesha's Grace,
Your Personal Astrologer
The GaneshaSpeaks.com Team
Birth Particulars

Gender

Female

Latitude

28N38

Birth Date

01 Jan 2012

Longitude

77E13

Birth Day

Tuesday

Lagna

Taurus-29:13:22

Birth Time

22:49 hrs

Aynamsh

23:45:04

Birth Place

New Delhi

Moon Sign

Cancer

Country

India

Birth Nakshatra

Pushya

Timezone

0530 hrs

Nakshatra Pada

4
Avakhada Chakra (Your Birth Panchang)
Description: The table shown here contains various astrological terms which are obtained from your own Moon's position. Hence, this table is very useful in Vedic Astrology as it shows your own personalized information. This helps the native to determine the compatibility with others.

Birth Yog

Shiv

Birth Vasya

Jalchar

Birth Karan

Balav

Birth Yoni

Mesh

Birth Varga

Swan

Birth Gana

Dev

Birth Varna

Brahmin

Birth Yunja

Madhya

Birth Tatva

Vari

Birth Nadi

Madhya
Ghaat Chakra
Description: As the name suggests, Ghaat literally means negative or inauspicious. This table shows your personalized negative phenomenon of Panchang in which you should take extra care and precaution. Plus, the suggested day, tithi, month, nakshatra etc... should also be avoided to initiate any new or auspicious work.

Month

Posha

Tithi

Krishnaekadashi

Day

Wednesday

Nakshatra

Anuradha

Yog

Vyaghaat

Karan

Naag

Prahar

First

MaleMoon

Leo

FemaleMoon

Pisces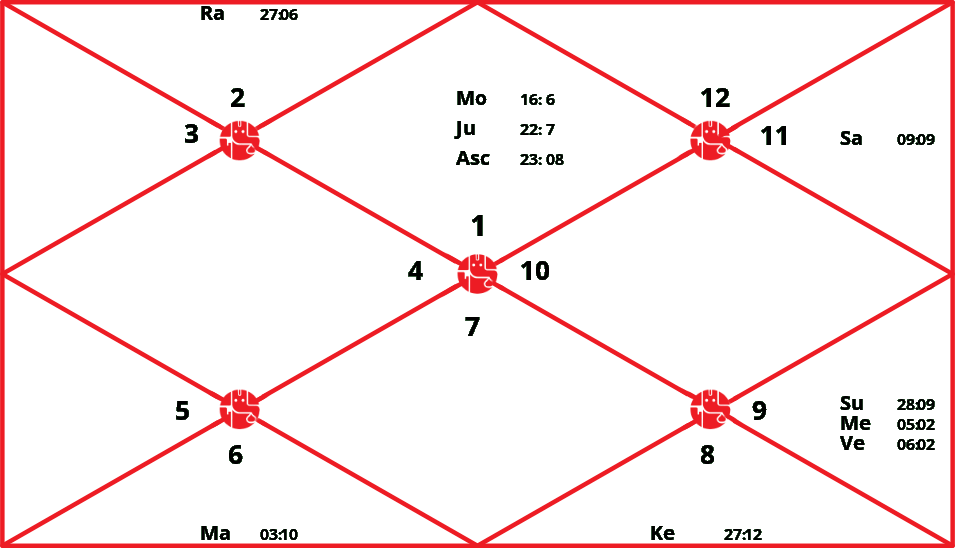 Grah
Rashi-Ansh
Nakshatra-Pad
Ra Swa
Na Swa
Awastha
Lagna
Taurus-

29:13:22

Mrugshirsh -

2

Venus
Mars
Balya
Sun
Virgo-

06:11:30

Uttarafalguni -

3

Mercury
Sun
Vruddha
Moon
Cancer-

14:08:06

Pushya -

4

Moon
Saturn
Yuva
Mars
Gemini-

12:02:44

Aadra -

2

Mercury
Rahu
Yuva
Mercury
Virgo-

12:22:58

-C

Hast -

1

Mercury
Moon
Yuva
Jupiter
Virgo-

02:25:18

-C

Uttarafalguni -

2

Mercury
Sun
Mruta
Venus
Libra-

03:16:36

Chitra -

3

Venus
Mars
Balya
Saturn
Capricorn-

18:31:29

Shravan -

3

Saturn
Moon
Kumar
Rahu
Sagittarius-

02:00:05

Mool -

1

Jupiter
Ketu
Balya
Ketu
Gemini-

02:00:05

Mrugshirsh -

3

Mercury
Mars
Balya
Harshal
Sagittarius-

20:17:56

Purvashadha -

3

Jupiter
Venus
Vruddha
Neptune
Sagittarius-

22:26:12

Purvashadha -

3

Jupiter
Venus
Vruddha
Pluto
Libra-

27:11:22

Vishakha -

3

Venus
Jupiter
Mruta
Moon Chart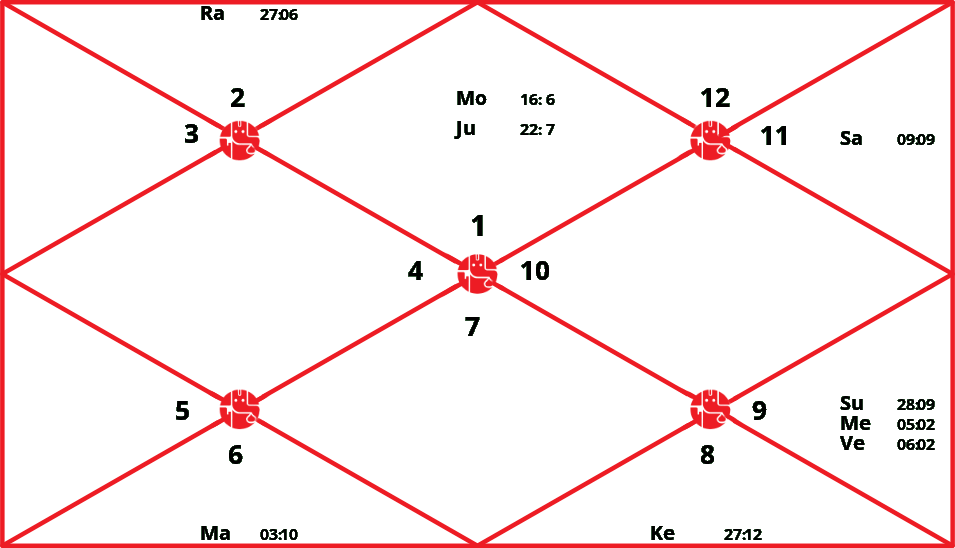 Navamsha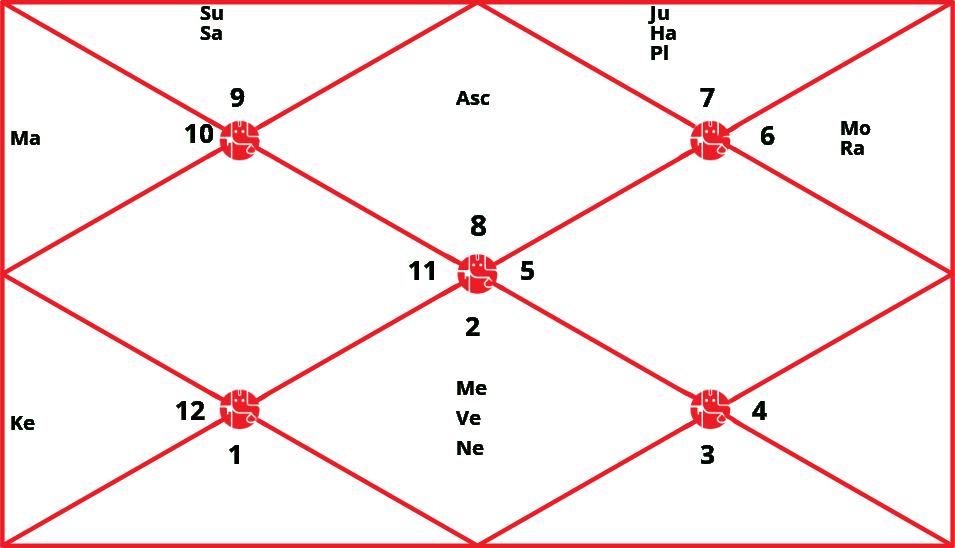 Ashtakavarga Kundli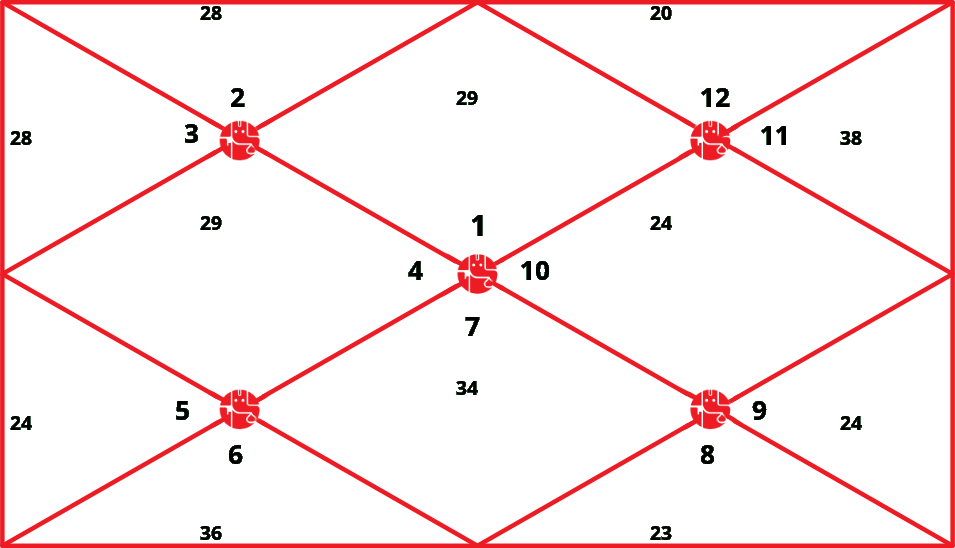 Vimshottari Mahadasha and Antardashas
| | | |
| --- | --- | --- |
| Saturn | 15 May 1977 | 16 May 1980 |
| Mercury | 16 May 1980 | 22 Jan 1983 |
| Ketu | 22 Jan 1983 | 01 Mar 1984 |
| Venus | 01 Mar 1984 | 30 Apr 1987 |
| Sun | 30 Apr 1987 | 11 Apr 1988 |
| Moon | 11 Apr 1988 | 10 Nov 1989 |
| Mars | 10 Nov 1989 | 19 Dec 1990 |
| Rahu | 19 Dec 1990 | 23 Oct 1993 |
| Jupiter | 23 Oct 1993 | 04 May 1996 |
| | | |
| --- | --- | --- |
| Mercury | 04 May 1996 | 29 Sep 1998 |
| Ketu | 29 Sep 1998 | 26 Sep 1999 |
| Venus | 26 Sep 1999 | 25 Jul 2002 |
| Sun | 25 Jul 2002 | 31 May 2003 |
| Moon | 31 May 2003 | 29 Oct 2004 |
| Mars | 29 Oct 2004 | 26 Oct 2005 |
| Rahu | 26 Oct 2005 | 13 May 2008 |
| Jupiter | 13 May 2008 | 18 Aug 2010 |
| Saturn | 18 Aug 2010 | 25 Apr 2013 |
| | | |
| --- | --- | --- |
| Ketu | 25 Apr 2013 | 21 Sep 2013 |
| Venus | 21 Sep 2013 | 21 Nov 2014 |
| Sun | 21 Nov 2014 | 29 Mar 2015 |
| Moon | 29 Mar 2015 | 28 Oct 2015 |
| Mars | 28 Oct 2015 | 25 Mar 2016 |
| Rahu | 25 Mar 2016 | 12 Apr 2017 |
| Jupiter | 12 Apr 2017 | 19 Mar 2018 |
| Saturn | 19 Mar 2018 | 27 Apr 2019 |
| Mercury | 27 Apr 2019 | 23 Apr 2020 |
| | | |
| --- | --- | --- |
| Venus | 23 Apr 2020 | 21 Aug 2024 |
| Sun | 21 Aug 2024 | 20 Aug 2024 |
| Moon | 20 Aug 2024 | 20 Apr 2026 |
| Mars | 20 Apr 2026 | 20 Jun 2027 |
| Rahu | 20 Jun 2027 | 18 Jun 2030 |
| Jupiter | 18 Jun 2030 | 14 Feb 2033 |
| Saturn | 14 Feb 2033 | 14 Apr 2036 |
| Mercury | 14 Apr 2036 | 11 Feb 2039 |
| Ketu | 11 Feb 2039 | 12 Apr 2040 |
| | | |
| --- | --- | --- |
| Sun | 12 Apr 2040 | 31 Jul 2040 |
| Moon | 31 Jul 2040 | 30 Jan 2041 |
| Mars | 30 Jan 2041 | 07 Jun 2041 |
| Rahu | 07 Jun 2041 | 01 May 2042 |
| Jupiter | 01 May 2042 | 17 Feb 2043 |
| Saturn | 17 Feb 2043 | 30 Jan 2044 |
| Mercury | 30 Jan 2044 | 05 Dec 2044 |
| Ketu | 05 Dec 2044 | 12 Apr 2045 |
| Venus | 12 Apr 2045 | 12 Apr 2046 |
| | | |
| --- | --- | --- |
| Moon | 12 Apr 2046 | 10 Feb 2047 |
| Mars | 10 Feb 2047 | 11 Sep 2047 |
| Rahu | 11 Sep 2047 | 11 Mar 2049 |
| Jupiter | 11 Mar 2049 | 10 Jul 2050 |
| Saturn | 10 Jul 2050 | 08 Feb 2052 |
| Mercury | 08 Feb 2052 | 09 Jul 2053 |
| Ketu | 09 Jul 2053 | 07 Feb 2054 |
| Venus | 07 Feb 2054 | 08 Oct 2055 |
| Sun | 08 Oct 2055 | 08 Apr 2056 |
| | | |
| --- | --- | --- |
| Mars | 08 Apr 2056 | 04 Sep 2056 |
| Rahu | 04 Sep 2056 | 22 Sep 2057 |
| Jupiter | 22 Sep 2057 | 29 Aug 2058 |
| Saturn | 29 Aug 2058 | 07 Oct 2059 |
| Mercury | 07 Oct 2059 | 03 Oct 2060 |
| Ketu | 03 Oct 2060 | 01 Mar 2061 |
| Venus | 01 Mar 2061 | 01 May 2062 |
| Sun | 01 May 2062 | 06 Sep 2062 |
| Moon | 06 Sep 2062 | 07 Apr 2063 |
| | | |
| --- | --- | --- |
| Rahu | 07 Apr 2063 | 16 Dec 2065 |
| Jupiter | 16 Dec 2065 | 09 May 2068 |
| Saturn | 09 May 2068 | 14 Mar 2071 |
| Mercury | 14 Mar 2071 | 29 Sep 2073 |
| Ketu | 29 Sep 2073 | 17 Oct 2074 |
| Venus | 17 Oct 2074 | 15 Oct 2077 |
| Sun | 15 Oct 2077 | 08 Sep 2078 |
| Moon | 08 Sep 2078 | 08 Mar 2080 |
| Mars | 08 Mar 2080 | 26 Mar 2081 |
| | | |
| --- | --- | --- |
| Jupiter | 26 Mar 2081 | 13 May 2083 |
| Saturn | 13 May 2083 | 22 Nov 2085 |
| Mercury | 22 Nov 2085 | 27 Feb 2088 |
| Ketu | 27 Feb 2088 | 02 Feb 2089 |
| Venus | 02 Feb 2089 | 02 Oct 2091 |
| Sun | 02 Oct 2091 | 20 Jul 2092 |
| Moon | 20 Jul 2092 | 18 Nov 2093 |
| Mars | 18 Nov 2093 | 25 Oct 2094 |
| Rahu | 25 Oct 2094 | 18 Mar 2097 |