INDEX
| Index | Title |
| --- | --- |
| 1 | Answer To Your Question |
| 2 | Rahu-Ketu In Your Horoscope |
| 3 | Impact Of The Transit |
| | A. Impact On Your Professional Life |
| | B. Impact On Your Personal Life |
| 4 | Personalized Remedies |
| 5 | Birth Details & Charts |
| | A. Birth Particulars |
| | B. Birth Chart |
| | C. Moon Chart |
| | D. Navamsha Chart |
| | E. Vimshottari Mahadasha And Antardashas Table |
YOUR QUESTION
Need specific details of health issues.
ANSWER TO YOUR QUESTION
In terms of your health, the combined influence of planetary transits and dasha sequences suggests a somewhat negative outlook. Therefore, it would be advisable to maintain a disciplined lifestyle. Additionally, starting from mid-November 2023, it will be essential to exercise strict vigilance over your daily habits. Sticking to a well-balanced diet and steering clear of unhealthy, processed foods will contribute to your overall fitness and well-being. During this time, your strong character and physical vitality will be quite noticeable.

It's worth noting that the impact of Ketu's transit over two fire planets in the 6th house may lead to some issues related to stomach and digestion. Consequently, it's recommended to avoid consuming food from outside sources and focus on maintaining a proper and balanced diet to mitigate these concerns.

Recitation of Shri Ram Raksha Stotra will help you find balance in all areas of your life.

Our blessings are always with you for your brighter future ahead.
INTRODUCTION
Rahu and Ketu will be transiting through Aries and Libra signs Rahu and Ketu will be transiting through Pisces and Virgo signs respectively from 30 October 2023. Rahu & Ketu both will occupy the signs Pisces and Virgo respectively till 18 May 2025.
RAHU-KETU IN YOUR HOROSCOPE
Rahu is in the fourth house of your birth chart, which is related to your home and family life. This means you have a lot of responsibilities when it comes to your family and your home. In this situation, you might be the one who has to set rules or be a source of support. You care a lot about feeling safe and you do things in a careful and traditional way to make sure you'll have what you need in the future. You hold on to the past and your roots, but you might actually be happier if you leave your hometown.

Ketu is placed in the 10th house, which is where big changes often happen. This planet is all about making things new and fresh. With Ketu in your tenth house, it means you really want to succeed in your job or career, but it might take some time and effort. This planet often points to a talent in fields like science, healing, or working with spiritual people. However, because of Ketu's unpredictable nature, there might be interruptions or breaks in your work or business. This can sometimes make your career path confusing, and it might be hard for you to choose just one thing to do.
IMPACT OF THE TRANSIT
IMPACT ON YOUR PROFESSIONAL LIFE
This transit will gradually usher in positive changes that will contribute to the ongoing success of your career. Devoting more time and effort to your professional endeavors will prove beneficial, and you may find a deep sense of satisfaction as your career development aligns with your expectations. Additionally, during this phase, you are likely to experience happiness through your educational pursuits and the acquisition of knowledge. However, some parts of December 2023 to June 2024 may pose challenges in your professional life, potentially leading to moments of mental unease.

As the period progresses from July 2024, and beyond, you can expect to be highly motivated and willing to put in extra effort to achieve your goals. Your efforts will be supported by individuals who share your objectives, and your track record of success will earn you the trust and respect of your superiors. Remember that first impressions matter, and maintaining a consistently positive image is crucial for the continuous renewal of contracts and associations. Therefore, use this supportive period to bolster your career growth, and don't hesitate to engage your support network. This is the optimal time to make affirmative decisions regarding your job and professional journey.
IMPACT ON YOUR PERSONAL LIFE
During this period, you'll find pleasure in activities that expand your horizons, both physically and mentally. Your forgiving nature will inspire you to resolve differences in your relationships and embrace shared power dynamics with your loved ones. To improve your overall well-being, it's a great time to socialize more with your close friends and family.

During some parts of mid-January 2024 to mid-July 2024, there might be a tendency to act more on emotional impulses rather than relying on clear thinking.

After mid-July 2024, you'll experience a deep and intimate connection with your loved ones, which will strengthen your relationships. Trust your intuition during this time, as it can provide valuable guidance through subtle messages from within. The cosmic influences will encourage you to have faith in your instincts, and planetary alignments may further enhance your intimacy, fostering a positive home environment. You'll likely become more emotionally involved in the matters of your family members as well.
PERSONALIZED REMEDIAL SOLUTIONS
The Primary Solution: The Ideal Most Gemstone For You
Please Note: For a limited period, we are offering the beautifully designed Panchdhatu Ring, absolutely free of cost! It means, now you only have to pay for the Gemstone!
The Energization of the Gemstones
It is important to note that a gemstone is powerless unless it is energized in a correct manner. The gemstone needs to be purified and made free of all impurities, before you can wear it.
But, you need not worry about the procedure and rituals, as, we at GaneshaSpeaks.com, have developed a traditional and authentic method to cleanse, energize and attune a gemstone, specially for you! It is based on our deep research and understanding of the Vedas and the related astrological scriptures.
So, the gemstone that you order, WILL BE READY TO WEAR!
Personalized Puja for you:
Our Solution Experts can help you in clearing your doubts or concerns related to predictions or remedies. To contact us on Email, click here.
With Ganesha's Grace,
Your Personal Astrologer
The GaneshaSpeaks.com Team
Birth Particulars

Gender

Male

Latitude

22N43

Birth Date

01 Jan 2012

Longitude

75E49

Birth Day

Friday

Lagna

Leo-23:48:2

Birth Time

05:58 hrs

Aynamsh

23:24:12

Birth Place

Indore

Moon Sign

Capricorn

Country

India

Birth Nakshatra

Shravan

Timezone

0530 hrs

Nakshatra Pada

2
Avakhada Chakra (Your Birth Panchang)
Description: The table shown here contains various astrological terms which are obtained from your own Moon's position. Hence, this table is very useful in Vedic Astrology as it shows your own personalized information. This helps the native to determine the compatibility with others.

Birth Yog

Atigand

Birth Vasya

Kit

Birth Karan

Bav

Birth Yoni

Vanar

Birth Varga

Manjar

Birth Gana

Dev

Birth Varna

Vaishya

Birth Yunja

Antya

Birth Tatva

Bhumi

Birth Nadi

Antya
Ghaat Chakra
Description: As the name suggests, Ghaat literally means negative or inauspicious. This table shows your personalized negative phenomenon of Panchang in which you should take extra care and precaution. Plus, the suggested day, tithi, month, nakshatra etc... should also be avoided to initiate any new or auspicious work.

Month

Vaishakha

Tithi

Shukladwadashi

Day

Tuesday

Nakshatra

Rohini

Yog

Vaidhruti

Karan

Shakuni

Prahar

Forth

MaleMoon

Leo

FemaleMoon

Scorpio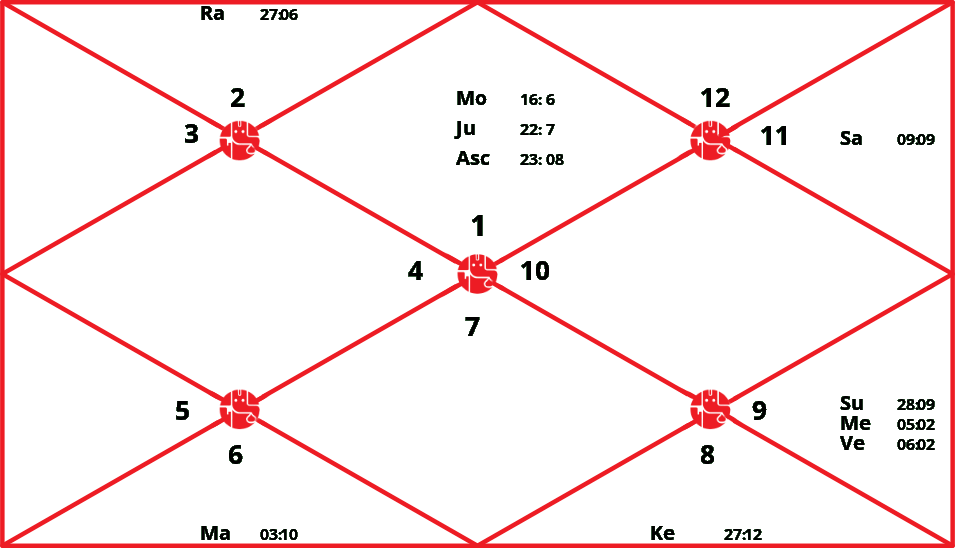 Grah
Rashi-Ansh
Nakshatra-Pad
Ra Swa
Na Swa
Awastha
Lagna
Leo-

23:48:2

Purvafalguni -

4

Sun
Venus
Vruddha
Sun
Leo-

28:04:56

Uttarafalguni -

1

Sun
Sun
Mruta
Moon
Capricorn-

15:52:35

Shravan -

2

Saturn
Moon
Yuva
Mars
Scorpio-

09:51:34

Anuradha -

2

Mars
Saturn
Vruddha
Mercury
Virgo-

15:09:36

Hast -

2

Mercury
Moon
Yuva
Jupiter
Leo-

00:08:02

Magha -

1

Sun
Ketu
Balya
Venus
Leo-

04:48:34

Magha -

2

Sun
Ketu
Balya
Saturn
Pisces-

16:58:43

Revati -

1

Jupiter
Mercury
Yuva
Rahu
Aries-

06:14:52

Ashwini -

2

Mars
Ketu
Kumar
Ketu
Libra-

06:14:52

Chitra -

4

Venus
Mars
Kumar
Harshal
Virgo-

01:11:52

-C

Uttarafalguni -

2

Mercury
Sun
Mruta
Neptune
Libra-

28:38:50

Vishakha -

3

Venus
Jupiter
Mruta
Pluto
Leo-

27:04:50

-C

Uttarafalguni -

1

Sun
Sun
Mruta
Moon Chart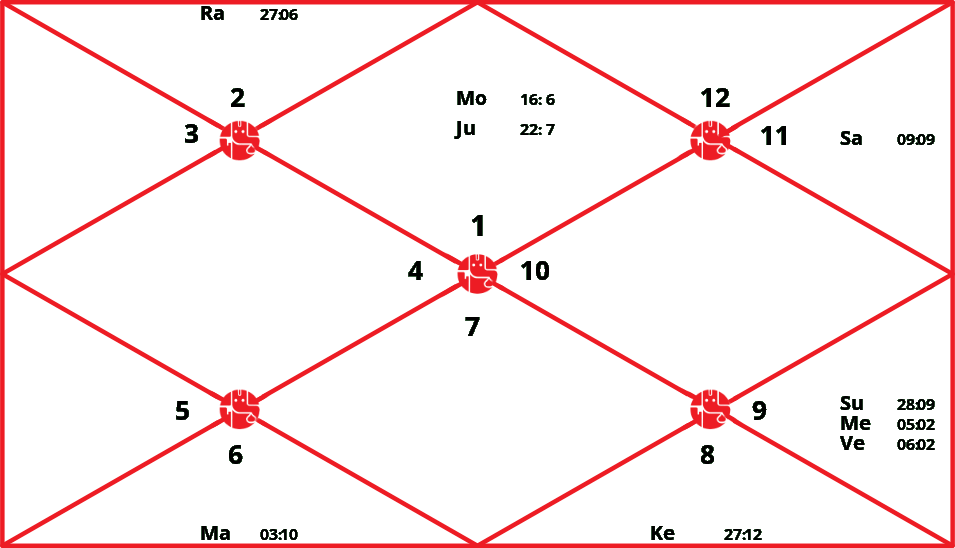 Navamsha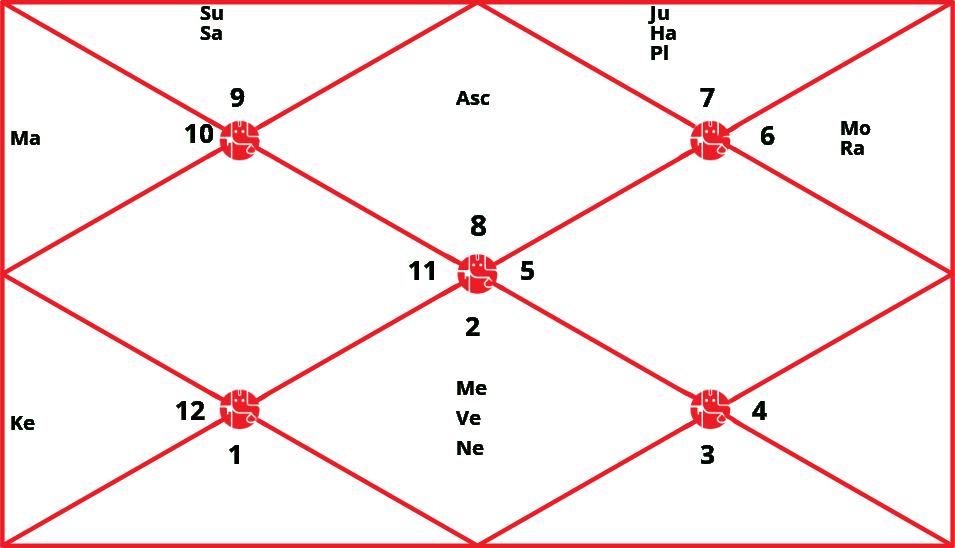 Ashtakavarga Kundli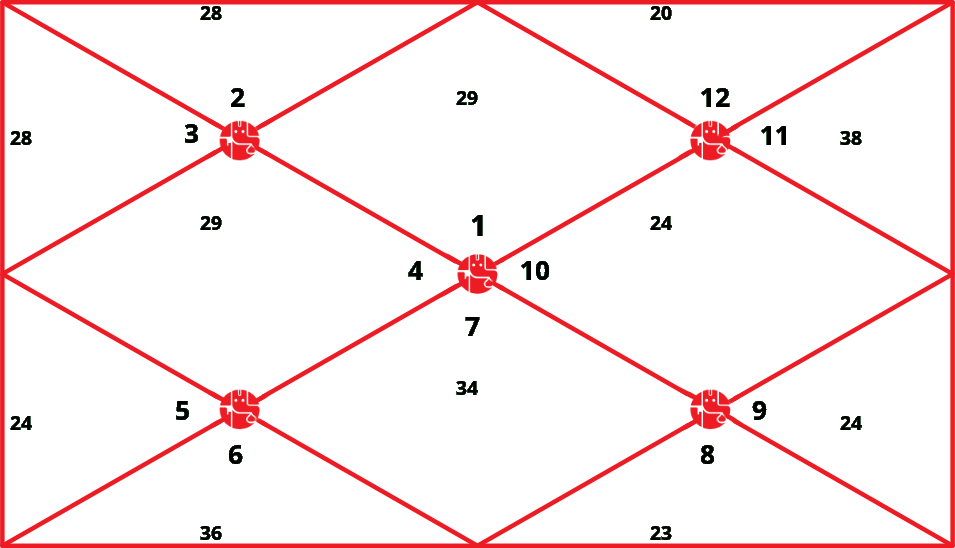 Vimshottari Mahadasha and Antardashas
| | | |
| --- | --- | --- |
| Moon | 24 Apr 1963 | 22 Feb 1964 |
| Mars | 22 Feb 1964 | 22 Sep 1964 |
| Rahu | 22 Sep 1964 | 23 Mar 1966 |
| Jupiter | 23 Mar 1966 | 22 Jul 1967 |
| Saturn | 22 Jul 1967 | 19 Feb 1969 |
| Mercury | 19 Feb 1969 | 21 Jul 1970 |
| Ketu | 21 Jul 1970 | 19 Feb 1971 |
| Venus | 19 Feb 1971 | 19 Oct 1972 |
| Sun | 19 Oct 1972 | 20 Apr 1973 |
| | | |
| --- | --- | --- |
| Mars | 20 Apr 1973 | 16 Sep 1973 |
| Rahu | 16 Sep 1973 | 04 Oct 1974 |
| Jupiter | 04 Oct 1974 | 10 Sep 1975 |
| Saturn | 10 Sep 1975 | 18 Oct 1976 |
| Mercury | 18 Oct 1976 | 15 Oct 1977 |
| Ketu | 15 Oct 1977 | 13 Mar 1978 |
| Venus | 13 Mar 1978 | 13 May 1979 |
| Sun | 13 May 1979 | 18 Sep 1979 |
| Moon | 18 Sep 1979 | 18 Apr 1980 |
| | | |
| --- | --- | --- |
| Rahu | 18 Apr 1980 | 28 Dec 1982 |
| Jupiter | 28 Dec 1982 | 21 May 1985 |
| Saturn | 21 May 1985 | 25 Mar 1988 |
| Mercury | 25 Mar 1988 | 11 Oct 1990 |
| Ketu | 11 Oct 1990 | 29 Oct 1991 |
| Venus | 29 Oct 1991 | 27 Oct 1994 |
| Sun | 27 Oct 1994 | 20 Sep 1995 |
| Moon | 20 Sep 1995 | 20 Mar 1997 |
| Mars | 20 Mar 1997 | 07 Apr 1998 |
| | | |
| --- | --- | --- |
| Jupiter | 07 Apr 1998 | 24 May 2000 |
| Saturn | 24 May 2000 | 04 Dec 2002 |
| Mercury | 04 Dec 2002 | 10 Mar 2005 |
| Ketu | 10 Mar 2005 | 14 Feb 2006 |
| Venus | 14 Feb 2006 | 13 Oct 2008 |
| Sun | 13 Oct 2008 | 01 Aug 2009 |
| Moon | 01 Aug 2009 | 30 Nov 2010 |
| Mars | 30 Nov 2010 | 06 Nov 2011 |
| Rahu | 06 Nov 2011 | 30 Mar 2014 |
| | | |
| --- | --- | --- |
| Saturn | 30 Mar 2014 | 31 Mar 2017 |
| Mercury | 31 Mar 2017 | 07 Dec 2019 |
| Ketu | 07 Dec 2019 | 14 Jan 2021 |
| Venus | 14 Jan 2021 | 14 Mar 2024 |
| Sun | 14 Mar 2024 | 24 Feb 2025 |
| Moon | 24 Feb 2025 | 25 Sep 2026 |
| Mars | 25 Sep 2026 | 03 Nov 2027 |
| Rahu | 03 Nov 2027 | 07 Sep 2030 |
| Jupiter | 07 Sep 2030 | 19 Mar 2033 |
| | | |
| --- | --- | --- |
| Mercury | 19 Mar 2033 | 14 Aug 2035 |
| Ketu | 14 Aug 2035 | 10 Aug 2036 |
| Venus | 10 Aug 2036 | 09 Jun 2039 |
| Sun | 09 Jun 2039 | 14 Apr 2040 |
| Moon | 14 Apr 2040 | 13 Sep 2041 |
| Mars | 13 Sep 2041 | 10 Sep 2042 |
| Rahu | 10 Sep 2042 | 28 Mar 2045 |
| Jupiter | 28 Mar 2045 | 03 Jul 2047 |
| Saturn | 03 Jul 2047 | 10 Mar 2050 |
| | | |
| --- | --- | --- |
| Ketu | 10 Mar 2050 | 06 Aug 2050 |
| Venus | 06 Aug 2050 | 06 Oct 2051 |
| Sun | 06 Oct 2051 | 11 Feb 2052 |
| Moon | 11 Feb 2052 | 11 Sep 2052 |
| Mars | 11 Sep 2052 | 07 Feb 2053 |
| Rahu | 07 Feb 2053 | 25 Feb 2054 |
| Jupiter | 25 Feb 2054 | 01 Feb 2055 |
| Saturn | 01 Feb 2055 | 11 Mar 2056 |
| Mercury | 11 Mar 2056 | 08 Mar 2057 |
| | | |
| --- | --- | --- |
| Venus | 08 Mar 2057 | 05 Jul 2060 |
| Sun | 05 Jul 2060 | 05 Jul 2061 |
| Moon | 05 Jul 2061 | 05 Mar 2063 |
| Mars | 05 Mar 2063 | 04 May 2064 |
| Rahu | 04 May 2064 | 03 May 2067 |
| Jupiter | 03 May 2067 | 30 Dec 2069 |
| Saturn | 30 Dec 2069 | 27 Feb 2073 |
| Mercury | 27 Feb 2073 | 27 Dec 2075 |
| Ketu | 27 Dec 2075 | 25 Feb 2077 |
| | | |
| --- | --- | --- |
| Sun | 25 Feb 2077 | 15 Jun 2077 |
| Moon | 15 Jun 2077 | 15 Dec 2077 |
| Mars | 15 Dec 2077 | 22 Apr 2078 |
| Rahu | 22 Apr 2078 | 16 Mar 2079 |
| Jupiter | 16 Mar 2079 | 02 Jan 2080 |
| Saturn | 02 Jan 2080 | 14 Dec 2080 |
| Mercury | 14 Dec 2080 | 20 Oct 2081 |
| Ketu | 20 Oct 2081 | 25 Feb 2082 |
| Venus | 25 Feb 2082 | 25 Feb 2083 |