Index
| Index | Title |
| --- | --- |
| 1 | Answer To Your Question |
| 2 | Your career journey |
| 3 | What to do and What not to do? |
| 4 | Personalized Remedial Solution |
| 5 | Birth Details & Charts |
| | A. Birth Particulars |
| | B. Birth Chart |
| | C. Moon Chart |
| | D. Navamsha Chart |
| | E. Vimshottari Mahadasha And Antardashas Table |
Answer To Your Question
(Your question: I am confused on which career path to take. These are my options : 1) Actor/cinefield, 2) Start my own video game company, 3) help out in my father\'s restraunt/ dairy business, 4) join some company (tech & marketing sector). could you please guide me on which option would best suit me.)

Dear Devdutt,

The quick answer to your question is that you should not get confused about your career path, below are the solutions from your given options,

1. You should give priority to starting your own video game company with your creative ideas, it will best suit to you.
2. You may opt for a stage artist as an actor/cine field. You may have artistic talent and you may utilize your artistic skills as a professional artist.
3. You may join your father's business. If you wish, you may expand your brand to Ice cream supply chains, milk parlors, dairy products, cake confectionery, or coffee cafes.
4. You may join another company through a job in technology through marketing and communication skills.

Despite the above options you have given if you wish to associate with any government authority through cultural events, or event management then also it will remain beneficial for your further professional journey. Or if you wish to initiate your journey abroad, you will get the desired name, fame, and success your way.

I hope this answers your question.


*** Favorable sectors
According to your birth chart, IT, Technology, Electronic Appliances, Research and development, Fire, Energy, Power, Electricity, Weapons manufacturing organizations (Even the Government sector is favorable for you), Technical advisors, Petroleum, Natural resources, Tools, Health-related organizations, etc. type of sectors will remain favorable for you further professional prospects.
What to do and What to avoid?
*** From February 2023 to July 2023

This period will remain somehow unfavorable to you to carry out your career prospects and achieve the objectives until April 2023. For you, this period may bring some difficulties or troubles on your professional front also. Lack of emotional sensitivity in this period can lead to emotional difficulties with the persons in your surroundings. Be alert as impulsiveness may lead to trouble with enemies. A feeling of loneliness may come upon you during this period. Your vitality may be low in this period so don't over-burden yourself. A stomach disorder or a headache may keep you stressed.

Some of the inauspicious forces of previous months will be continued here too, until July 2023. Hence, this particular phase signifies challenges in your path. Some discontentment during this particular time may affect peace and harmony in relation to others. Avoid activities that involve physical risks and make safety your priority. Hold tight to your position and reputation and avoid debates and arguments with anybody.

*** From August 2023 to January 2024
As the period progresses from mid-July 2023, planetary situations will bring success, stability, and progress to your life. Your plans and projects will be accomplished, and you would also gain from the same. You are also likely to do better on the work front. This period indicates your popularity in your social life too. However, body heat may trouble you during this particular period. Your workload is likely to increase during this period and you may not be able to handle it sufficiently. But, your determination will come to use. Your self-confidence will help you out each time. You can utilize this month to work on your latent talents instead.

Further, the period starting from November 2023 may also remain gainful for your carer/profession which may prove beneficial for overall career growth until January 2024. Plus, these planetary forces will enhance your skills in group activities such as meetings and conferences. It will also help you increase your contacts within your immediate surroundings. You will also be more generous and tolerant towards your opponents and critics.

Overall, communications will play an important role on the career front. Have patience and stay calm to deal with situations smoothly and effectively. Stay kind to everyone around you and try creating a peaceful environment and your life situations will not affect you much.
What to do and What to avoid?
*** What To do?
You should make the best use of this period and try to utilize this period for getting better job opportunities. You are advised to keep some patience during the major parts of this period as the adverse planetary influences may force you to make some necessary compromises and adjustments. So it's better to stick with your efforts.

*** What Not to do?
You should avoid hasty steps on the job and career front during this year. The major opportunities you get during this period, may not match your expectations due to Saturn's influence on the 10th house.

*** Favorable time frames,
From mid-July 2023 to mid-September 2023,
From November 2023 to mid-January 2024.
The above-said phases will remain favorable for your professional growth and progression. You may expect opportunities for next-level career growth in the said phase.

*** Favorable direction for your professional progression:
Your chances of getting success are better in the South-West direction from your birth/native place. So you are advised to search for better career options at the above-directed locations/cities/states/countries if you wish to change your current location for professional progression. You may utilize the favorable time frames for the same.
Personalized Remedial Solutions
The Primary Solution: The Ideal Most Gemstone For You
After wearing
Yellow Sapphire
, you will have strong spirit of reform with a hopeful, sociable and visionary outlook. It will open the doors of new opportunities. Obviously, your income will take an upward jump. As it is a natural signifier of 2nd house, it will also help you keep equal balance between personal and professional life. On the home front, this should be a happy phase bringing happiness to your family. At work, you would be able to gain confidence of your seniors and would also be able to influence others.
Please Note: For a limited period, we are offering the beautifully designed Panchdhatu Ring, absolutely free of cost! It means, now you only have to pay for the Gemstone!
The Energization of the Gemstones
It is important to note that a gemstone is powerless unless it is energized in a correct manner. The gemstone needs to be purified and made free of all impurities, before you can wear it.
But, you need not worry about the procedure and rituals, as, we at GaneshaSpeaks.com, have developed a traditional and authentic method to cleanse, energize and attune a gemstone, specially for you! It is based on our deep research and understanding of the Vedas and the related astrological scriptures.
So, the gemstone that you order, WILL BE READY TO WEAR!
Personalized Puja for you:
Further, we also recommend you to avail our Surya Rahu Grahan Dosha Nivarana Puja Service which is very essential to tone down this Dosha.
Introduction
The Sun is the planet which stands for all things grand and majestic, and on the other hand, Rahu – the shadowy planet, which is the top-ranked malefic, signifies the dark and unfortunate areas of life. Due to this combination, you may experience a lot of troubles and hassles at the workplace, or misunderstandings with authority figures, or you may not get the success that you may deserve easily. There will also be some chances of your image getting maligned by people who wish ill for you. Your leadership and management skills may also get clouded.
How it works ?
Surya Rahu Grahan Dosh Nivarn Puja includes the Puja of Kalash and other five important deities, namely, Ganesh, Shiva, Matruka, Navagraha, and Pradhan-Devta. Puja involves chanting/ reciting Surya (7000 times) and Rahu (18000 times) Bija Mantra. Then, ""HOMA"" (Havan) ritual is performed wherein, Ghee, Seasam, Barley, and other sacred material related to Lord Sun and Rahu will be offered to Agni with reciting 700 Mantras of Surya and 1800 Mantra of Rahu. Yagya / Homa is a significant remedy to remove the evil effect of the Grahan Dosh in your chart. To get maximum positive results, Puja will be performed on the nearest best Muhurat i.e in a Nakshatra of Rahu or Sun and on Sunday. To complete the Puja during the Muhurta, GaneshaSpeaks will appoint a team of 4 priests led by an Acharya who are masters of the Vedic rituals.
Link :-
Click Here
Benefits of this Pooja
- Remove the negative influence of Grahan Dosha
- Pacifying effect of Rahu and enhance the luck factor
- Get protection from obstacles and misfortunes
- Boost self-confidence and improve your career development
- Improvise relationship with seniors and elderly family members
- Overcome issues of restlessness and anxiety in life
Our Solution Experts can help you in clearing your doubts or concerns related to predictions or remedies. To contact us on Email, click here.
With Ganesha's Grace,
Your Personal Astrologer
The GaneshaSpeaks.com Team
Birth Particulars

Gender

Male

Latitude

10N49

Birth Date

01 Jan 2012

Longitude

78E42

Birth Day

Friday

Lagna

Aries-4:22:29

Birth Time

19:25 hrs

Aynamsh

23:48:25

Birth Place

Tiruchirappalli

Moon Sign

Pisces

Country

India

Birth Nakshatra

Revati

Timezone

0530 hrs

Nakshatra Pada

1
Avakhada Chakra (Your Birth Panchang)
Description: The table shown here contains various astrological terms which are obtained from your own Moon's position. Hence, this table is very useful in Vedic Astrology as it shows your own personalized information. This helps the native to determine the compatibility with others.

Birth Yog

Dhruv

Birth Vasya

Jalchar

Birth Karan

Kaulav

Birth Yoni

Gaja

Birth Varga

Sarp

Birth Gana

Dev

Birth Varna

Brahmin

Birth Yunja

Purva

Birth Tatva

Vari

Birth Nadi

Antya
Ghaat Chakra
Description: As the name suggests, Ghaat literally means negative or inauspicious. This table shows your personalized negative phenomenon of Panchang in which you should take extra care and precaution. Plus, the suggested day, tithi, month, nakshatra etc... should also be avoided to initiate any new or auspicious work.

Month

Falguna

Tithi

Krishnapratipada

Day

Friday

Nakshatra

Aashlesha

Yog

Vajra

Karan

Chatuspad

Prahar

Forth

MaleMoon

Aquarius

FemaleMoon

Aquarius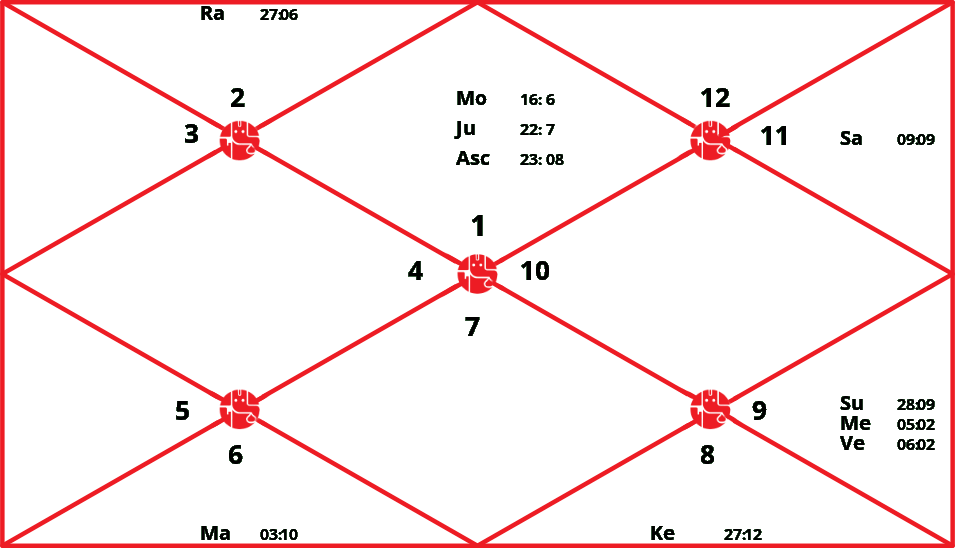 Grah
Rashi-Ansh
Nakshatra-Pad
Ra Swa
Na Swa
Awastha
Lagna
Aries-

4:22:29

Ashwini -

2

Mars
Ketu
Balya
Sun
Virgo-

10:55:47

Hast -

1

Mercury
Moon
Vruddha
Moon
Pisces-

17:03:50

Revati -

1

Jupiter
Mercury
Yuva
Mars
Cancer-

17:08:27

Aashlesha -

1

Moon
Mercury
Yuva
Mercury
Leo-

25:16:13

Purvafalguni -

4

Sun
Venus
Mruta
Jupiter
Sagittarius-

14:54:54

Purvashadha -

1

Jupiter
Venus
Yuva
Venus
Cancer-

28:40:00

Aashlesha -

4

Moon
Mercury
Balya
Saturn
Pisces-

10:05:41

Uttarabhadrapad -

3

Jupiter
Saturn
Vruddha
Rahu
Virgo-

14:18:19

-C

Hast -

2

Mercury
Moon
Yuva
Ketu
Pisces-

14:18:19

Uttarabhadrapad -

4

Jupiter
Saturn
Yuva
Harshal
Capricorn-

06:54:00

Uttarashadha -

4

Saturn
Sun
Vruddha
Neptune
Capricorn-

01:11:35

Uttarashadha -

2

Saturn
Sun
Mruta
Pluto
Scorpio-

07:09:44

Anuradha -

2

Mars
Saturn
Vruddha
Moon Chart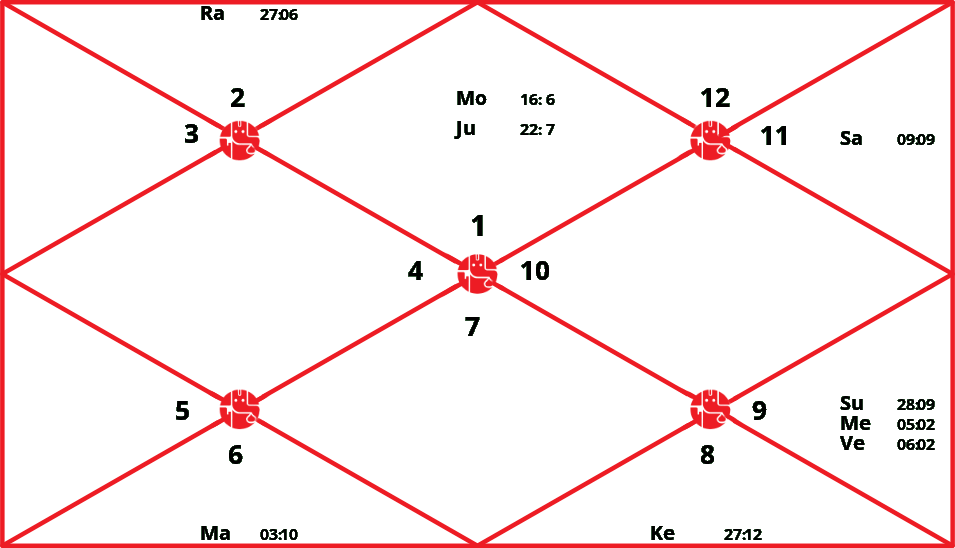 Navamsha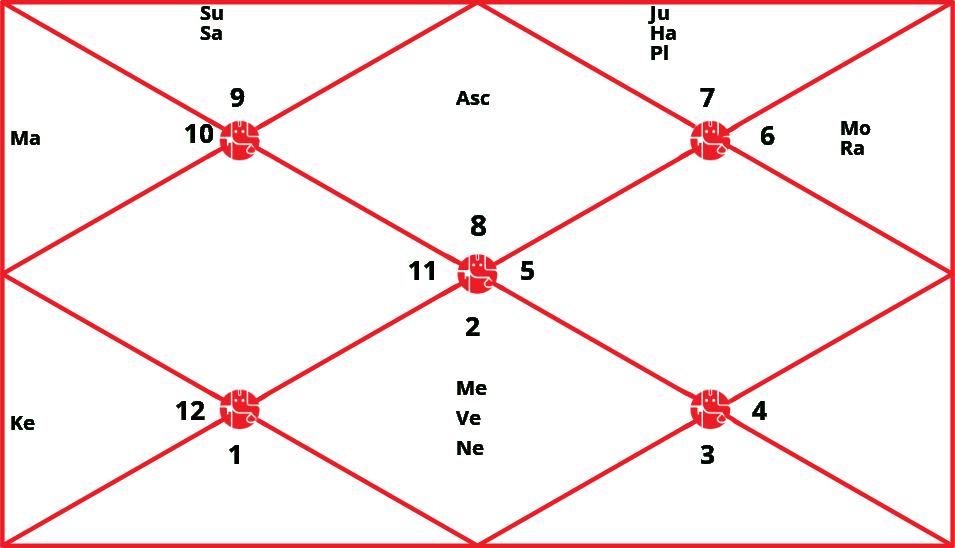 Ashtakavarga Kundli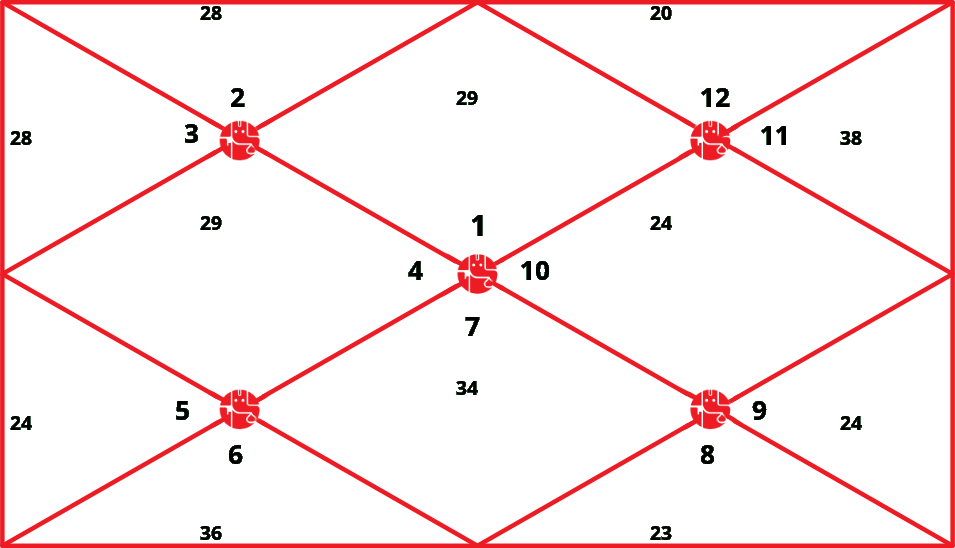 Vimshottari Mahadasha and Antardashas
| | | |
| --- | --- | --- |
| Mercury | 27 Mar 1996 | 22 Aug 1998 |
| Ketu | 22 Aug 1998 | 19 Aug 1999 |
| Venus | 19 Aug 1999 | 17 Jun 2002 |
| Sun | 17 Jun 2002 | 23 Apr 2003 |
| Moon | 23 Apr 2003 | 21 Sep 2004 |
| Mars | 21 Sep 2004 | 18 Sep 2005 |
| Rahu | 18 Sep 2005 | 05 Apr 2008 |
| Jupiter | 05 Apr 2008 | 11 Jul 2010 |
| Saturn | 11 Jul 2010 | 18 Mar 2013 |
| | | |
| --- | --- | --- |
| Ketu | 18 Mar 2013 | 14 Aug 2013 |
| Venus | 14 Aug 2013 | 14 Oct 2014 |
| Sun | 14 Oct 2014 | 19 Feb 2015 |
| Moon | 19 Feb 2015 | 20 Sep 2015 |
| Mars | 20 Sep 2015 | 16 Feb 2016 |
| Rahu | 16 Feb 2016 | 05 Mar 2017 |
| Jupiter | 05 Mar 2017 | 09 Feb 2018 |
| Saturn | 09 Feb 2018 | 20 Mar 2019 |
| Mercury | 20 Mar 2019 | 16 Mar 2020 |
| | | |
| --- | --- | --- |
| Venus | 16 Mar 2020 | 14 Jul 2023 |
| Sun | 14 Jul 2023 | 13 Jul 2024 |
| Moon | 13 Jul 2024 | 13 Mar 2026 |
| Mars | 13 Mar 2026 | 13 May 2027 |
| Rahu | 13 May 2027 | 11 May 2030 |
| Jupiter | 11 May 2030 | 07 Jan 2033 |
| Saturn | 07 Jan 2033 | 07 Mar 2036 |
| Mercury | 07 Mar 2036 | 04 Jan 2039 |
| Ketu | 04 Jan 2039 | 05 Mar 2040 |
| | | |
| --- | --- | --- |
| Sun | 05 Mar 2040 | 23 Jun 2040 |
| Moon | 23 Jun 2040 | 23 Dec 2040 |
| Mars | 23 Dec 2040 | 30 Apr 2041 |
| Rahu | 30 Apr 2041 | 24 Mar 2042 |
| Jupiter | 24 Mar 2042 | 10 Jan 2043 |
| Saturn | 10 Jan 2043 | 23 Dec 2043 |
| Mercury | 23 Dec 2043 | 28 Oct 2044 |
| Ketu | 28 Oct 2044 | 05 Mar 2045 |
| Venus | 05 Mar 2045 | 05 Mar 2046 |
| | | |
| --- | --- | --- |
| Moon | 05 Mar 2046 | 03 Jan 2047 |
| Mars | 03 Jan 2047 | 04 Aug 2047 |
| Rahu | 04 Aug 2047 | 01 Feb 2049 |
| Jupiter | 01 Feb 2049 | 02 Jun 2050 |
| Saturn | 02 Jun 2050 | 01 Jan 2052 |
| Mercury | 01 Jan 2052 | 01 Jun 2053 |
| Ketu | 01 Jun 2053 | 31 Dec 2053 |
| Venus | 31 Dec 2053 | 31 Aug 2055 |
| Sun | 31 Aug 2055 | 01 Mar 2056 |
| | | |
| --- | --- | --- |
| Mars | 01 Mar 2056 | 28 Jul 2056 |
| Rahu | 28 Jul 2056 | 15 Aug 2057 |
| Jupiter | 15 Aug 2057 | 22 Jul 2058 |
| Saturn | 22 Jul 2058 | 30 Aug 2059 |
| Mercury | 30 Aug 2059 | 26 Aug 2060 |
| Ketu | 26 Aug 2060 | 22 Jan 2061 |
| Venus | 22 Jan 2061 | 24 Mar 2062 |
| Sun | 24 Mar 2062 | 30 Jul 2062 |
| Moon | 30 Jul 2062 | 28 Feb 2063 |
| | | |
| --- | --- | --- |
| Rahu | 28 Feb 2063 | 08 Nov 2065 |
| Jupiter | 08 Nov 2065 | 01 Apr 2068 |
| Saturn | 01 Apr 2068 | 04 Feb 2071 |
| Mercury | 04 Feb 2071 | 22 Aug 2073 |
| Ketu | 22 Aug 2073 | 09 Sep 2074 |
| Venus | 09 Sep 2074 | 07 Sep 2077 |
| Sun | 07 Sep 2077 | 01 Aug 2078 |
| Moon | 01 Aug 2078 | 30 Jan 2080 |
| Mars | 30 Jan 2080 | 16 Feb 2081 |
| | | |
| --- | --- | --- |
| Jupiter | 16 Feb 2081 | 05 Apr 2083 |
| Saturn | 05 Apr 2083 | 15 Oct 2085 |
| Mercury | 15 Oct 2085 | 20 Jan 2088 |
| Ketu | 20 Jan 2088 | 26 Dec 2088 |
| Venus | 26 Dec 2088 | 25 Aug 2091 |
| Sun | 25 Aug 2091 | 12 Jun 2092 |
| Moon | 12 Jun 2092 | 11 Oct 2093 |
| Mars | 11 Oct 2093 | 17 Sep 2094 |
| Rahu | 17 Sep 2094 | 08 Feb 2097 |
| | | |
| --- | --- | --- |
| Saturn | 08 Feb 2097 | 10 Feb 2100 |
| Mercury | 10 Feb 2100 | 19 Oct 2102 |
| Ketu | 19 Oct 2102 | 27 Nov 2103 |
| Venus | 27 Nov 2103 | 25 Jan 2107 |
| Sun | 25 Jan 2107 | 07 Jan 2108 |
| Moon | 07 Jan 2108 | 07 Aug 2109 |
| Mars | 07 Aug 2109 | 15 Sep 2110 |
| Rahu | 15 Sep 2110 | 20 Jul 2113 |
| Jupiter | 20 Jul 2113 | 30 Jan 2116 |