Index
| Index | Title |
| --- | --- |
| 1 | Answer To Your Question |
| 2 | Year – 1 to 5 |
| 3 | Year – 6 to 10 |
| 4 | Personalized Remedial Solution |
| 5 | Birth Details & Charts |
| | A. Birth Particulars |
| | B. Birth Chart |
| | C. Moon Chart |
| | D. Navamsha Chart |
| | E. Vimshottari Mahadasha And Antardashas Table |
Answer To Your Question
Dear Devdutt,

Let's discuss your Question first.

As you have entered into Saturn's small panoti (Chhoti Dhaiya) since 17 January 2023, you will require careful stepls while entering into any major deal. Large projects which involves major fiscal commitments will require more attention.

During September 2023 to March 2025, the 4th and 10th houses will remain afflicted by Rahu & Ketu transits. Hence, this period will require patience and careful handeling of all business and financial matters. Though there will be some struggles, you will be able to succeed by your intellect & wisdom. Investments will have to be made after due thought here.

From April 2025 onwards, you will be strongly favoured by your luck in matters related to business. You will come across some wonderful opportunities and you will be able to take the right decisions based on your instincts. This period also indicates faster progress and a prosperous business, and almost all your efforts will reap good fruits. However, review all matters carefully which affect your finances.

Our blessings are always with you for your brighter future ahead.

Year – 6 to 10
Year – 1

Highlights of Year – 1

You are presently under the influence of Sun Mahadasha and Moon Antardasha which will rule till the end of July 2023. From 30 July 2023 onwards, you will be passing through Sun Mahadasha and Mars Antardasha which will rule till 05 December 2023.


January to March 2023

During this quarter, you will be in the fast lane of progress as the year progresses. The transiting planets will be making you even more enterprising and you will be willing to take risks even on limited resources. You must keep in mind that Ketu is transiting over your natal Sun and is a planet of illusion and it tends to bring false impression. So, ensure that you are not reckless with your investments and career planning. You have been ignoring something important related to your career for quite some time. The transit of Ketu will bring it to the surface and confront you so be careful.


April to June 2023

This quarter will be a progressive phase as compared to the previous one. You will have a better set of conditions now and you may also have a better grip over the prevailing conditions. Amid some problems and odds, this quarter will offer you some good opportunity for business progression. However, you must avoid over ambitious moves. This period carries a risk of being impulsive and assertive or scattering your energy in too many directions. You need to take decisions using your logical abilities.


July to September 2023

This quarter will remain bit challenging; thus, your daily work will require patience, dedication and meticulous attention to detail. You will be required to be more discriminating and to use all your experience and powers of analysis. This period may also offer you some opportunities for progress but your casual approach or confused state of mind towards opportunities, however, may bring down the profits that you are likely to reap. So, move slowly in this quarter.


October to December 2023

This quarter suggests a great deal of energy and enthusiasm but carries a risk of being impulsive and assertive or scattering your energy in too many directions. You will have suficient support from your associates and mentors. Government officials, if any, will also be supporting you here. The experiences will help you make necessary changes and eventually lead you to success.


Year – 2

Highlights of Year – 2

From the beginning of this year, you will be passing through Sun Mahadasha and Rahu Antardasha which will rule till 29 October 2024. Your next Antardasha lord will be Jupiter.


January to March 2024

Professionally & financially, it a good time to aspire for something big. Planets will make you plan your activities wisely and the support of dasha planets will make you implement the same. The transiting planets will make you plan in detail and dasha planets will make you execute your plans one after the other. Professionally, you will plan and execute your plans accordingly. Make sure you take the right decision and do not over stretch your credit limits.


April to June 2024

Business-wise, this is a good phase for you. Most of you will plan to move ahead in your career with new and progressive ideas. The role that you will plan to fetch will take you to a new destination and even bring you name and fame. Only advise is to not be over enthusiastic to reach out to the final goals. Let the progress undertake on its own way and you will be happy with the progress. Take a calculated risk in your fiscal management.


July to September 2024

Various planetary situations of this period are likely to bring complete success in terms of your business expansion. If you have been planning for expansion, then this particular period will help you draw the final planning or implementation for that. But this expansion will be a domestic one and not an international one so plan accordingly. Earnings and social recognition are likely to improve.


October to December 2024

During this last quarter, you will be feeling the pressure of responsibilities. However, the transiting planets will enable you to instinctively know the problem areas which will allow you to handle the challenges more efficiently. There could be a parting of the ways on the work front and new challenges looming on the horizon. However, with excellent organizational skills, you will be well equipped to manage the challenges.


Year – 3

Highlights of Year – 3

The influence of Sun Mahadasha and Jupiter Antardasha will rule till 17 August 2025. Your next antardasha lord will be Saturn.


January to March 2025


This quarter shall demand you to work with prudence and making smart strategies for your fiscal progress. You may be dreaming of making quick gains in this period. You are to remain optimistic about prospects. However, planets will support you but you may need to accept new challenges to move ahead in your pursuit. Here the prominent key to deal with the situation is keeping patience in your pocket. In this phase sustained hard work and doing things by a certain method in a more sorted way seems to be the right choice to achieve the desired level of success for your business or firm.


April to June 2025

This period seems good for your professional activities. However, it will require more hard work and systematic planning for the desired success of your business. You will be able to showcase your abilities and talents, but you should not become over-confident. This can be a good time to coordinate your efforts and direct it towards accomplishments of your pending projects. As per our research, if you are unable to understand the difference between being confident and over confident, the progress of your business will face an end number of roadblocks. However, some constraints can hold you from accelerating the pace of progress during the later parts of this quarter.


July to September 2025

In this period, you will need to execute due discrimination while spending money and refrain from unwarranted expenses. Any extra and unwanted purchases will waste your money to a great extent hence it is advised to cut out such expenses. As any laxity can harm your long term business prospects. Be confident, composed and absolutely focused so that you make no errors or omissions. This is most likely to happen here. Post mid-phase of this period, you will make some intelligent move ahead on the road to progress. A cool, clam and composed approach will help you manage your business.


October to December 2025

In this period, you will have a strong desire to undertake a few new endeavors, and you will also find success in your projects. Highly spirited and motivated positive energy will be in you this time to handle the situation smartly in order to meet the business goals thoroughly. This can be a good time to coordinate your efforts and direct it towards accomplishments of your pending projects. During the later parts, avoid taking any decisions based on emotions.


Year – 4

Highlights of Year – 4

The impact of Sun Mahadasha and Saturn Antardasha will rule till 30 July 2026. Your next Antardasha lord will be Mercury.


January to March 2026

As this quarter begins, there will actually be prosperity and growth in business really due to the efforts, really contrary to popular belief. The planetary influences during this phase will particularly help you to use this supportive time to enhance growth in your business pursuit specifically. You are to remain busier negotiating really many deals during this phase in a pretty major way. You need to particularly handle matter related to finance or investments very much cautiously to achieve the goals. Do not go for any deals which for all intents and purposes are not needed presently.


April to June 2026

This will be a good period to carry out the business and to communicate the new ideas and strategies for the business growth and activities. During this period, you will be inclined to speak up about matters that you previously were avoiding or only mulling over. Your response and actions will be sharper than usual, and you will find in a mood to take the business to the next level. You may now have more energy to invest to accomplish your pending projects in this length of time. This is the time to be direct and to communicate precisely.


July to September 2026

In this period, you have to work double to make your business value in the market. In other words, this could be a very hectic phase as there may be some tight schedules in terms of business-related work so carry out the work accordingly. Due to which you have to close deadlines to maintain the market position of your business. It would be better to proceed only with a definite strategy and ideas, or otherwise, you may get done in by the confusing situations in this period of time. A proper analysis of the market conditions will help you formulate effective strategies.


October to December 2026

During the initial 3 weeks of this quarter, there will be a time when you feel insecure about the growth of the business and activities and successfully bring the transactional benefits to the business activities and matters. There may be some situations and time, wherein you may feel that things are not moving either way in the business to mark the successful place in the market. The best way to handle this period and situation is to do your best to strengthen your activities and skills base. As this period progresses, planetary situations will fall in your favor so don't worry. This is a time to build trust in your organisation and a strong foundation for lasting growth.


Year – 5

Highlights of Year – 5

Your Sun Mahadasha and Mercury Antardasha will rule till 05 June 2027. Then, your Ketu Antardahsa will start from 06 June 2027 which will rule till 11 October 2027. Venus will operate your Antardasha from 11 October 2027.


January to March 2027

During this period, you have to look after both business and personal life and keep an equal amount of time to business and personal life. This is the period when you should work towards maintain the balance between your personal life and business goals and objectives. A calm and polite approach towards this would also help you to overcome problems and issues to carry out the tasks in terms of maintaining balance. Now, you would be able to create interesting and effective concepts and strategies which can be used in important presentations and getting the new deal in this period of time.


April to June 2027

As this quarter begins, you will now come out of your shell, ready to perform and to express yourself efficiently and creatively. You will be more spontaneous and more willing to take risks. It is time to show off your best colours. Your ability and skills to grasp complicated matters and situations to understand the difficult equations will help you to march forward amid problems and carry out the business objectives and matters. The efforts and performance level that you put in this phase will not go unnoticed and positive Rewards are most likely to come in terms of business activities and matter in this length of time.


July to September 2027

This is a good period to take advantage and to carry out the methods to improve the business activities and boost the sales. You will be more spontaneous and more willing to take risks in the business activities. It is time to show off your best colours and strength. You will be focusing on the issue that is causing trouble in your business and transaction growth. You will act with more confidence, and your productivity will also increase. Make the best use of this phase to analyse your strengths and to correct method of function, as you will be able to spot even minor differences or mistakes easily in this length of time.


October to December 2027

During this period, amid stiff challenges and resistance, you will witness forward movement in your profession, which will be brought about by your increased mental maturity and acquiring of greater responsibility and commitment to hard work. Your self-discipline and persistence may help you manage the pressure situations and consolidate your position. However, a sense of dissatisfaction may bother you around the ending parts of this quarter. On some days, planets will test your skills and potential to manage the pressure situations.

Year – 6 to 10
Year – 6

Highlights of Year – 6

The influence of Sun Mahadasha and Venus Antardasha will rule till 10 October 2028. Then, your Moon Mahadasha will start from 10 October 2028.


January to March 2028

In this quarter, a complacent and negligent approach towards your organisation may not go down. You would on some occasions may feel exhausted and extremely frustrated. Though you will be able to multi-task, It is suggested that it would be even more better if you take one thing at a time. You should start to focus on the basics. In this phase, you will not look on to the basics and due to which there will be higher chances of confusion and delays related to your work. This is a time to collect yourself and organise your business efficiently and deal with basics first.


April to June 2028

As this quarter begins, you may be preoccupied with thinking about your past experiences. As the period progresses, you may have more clarity about how to proceed further in your business which may help you to execute business related tasks well. You will also focus on being known for who you are and what your real talent is. You will have a nice amount of experience waiting for you in order to lead you towards your desire. Meetings, presentations & strategising and a lot more seems to be in the offering.


July to September 2028

A strong desire to expand will come multiple times in this period. But try to curb these desires as it might be harmful in the longer run. You may have a strong desire to expand your business and to take it to the next level. Though the planets will bring opportunities for growth in your business, specific incompetence or lack of clarity may sometimes manifest. You will be required to give extra attention to your business dealings or financial transactions.


October to December 2028

In this quarter, communications and negotiations will click for you and bring in new opportunities. You will generous and help people too. Also, you would get help and support from others as well. You have to maintain the quietness and fortitude as there will be more challenging issues are problems regarding business development and transactional activities. The wiser thing would be to focus on the more essential areas and to consolidate your overall position, rather than aiming too high. It will be time to show off your best colors.


Year – 7

Highlights of Year – 7

The impact of Moon Mahadasha and its Antardasha will rule till 11 August 2029. Your next Antardasha lord will be Mars.


January to March 2029

During this period, your transiting planets will bring some fresh business ideas and you will be intrested in expanding the foundation of your business. Planets will bring profitable productivity and success in business. Work-related travel is also possible and this period will also help you reaching a wider audience which may boost your business prospects. But, during the later parts, planets might make you a bit careless and you will be less intrested in details of the work. It is therefore very much necessary for you to scale down the detail of your business ideas and must prepare a solid ground work and planning before you make decisive moves during this period.


April to June 2029

In the beginning of the period, planets will help you to bring positive momentum in your business. It will also help you to resolve some pending issues which might have been bothering you. At the same time, you will be facing resistance from your associates or clients. Demands and expectations of your old cilents will make you work hard to fulfill the commitments. Best way to deal with this period and to gain from planets will be to make step by step progress and remain flexible and accommodative.


July to September 2029

Despite your sincere efforts, hard work and dedication, you will be unable to get desired success in your business or your work may get delayed which may bring pressure on your routine business. This quarter will test your patience as one or other issues may continue to frustrate you. Also, there will be stiff resistance and competition. To hit your targets, you are likely to take some decisions in haste which might backfire on you. This will be the time to consolidate your position rather than making any ambitious moves.


October to December 2029

Various planetary situations of this quarter will bring clarity and stability in your business. This period will help you to complete some of your pending plans and you would be more devoted to your work or profession during this time. Plus, your confidence and performance will also be high. You may not encounter any hurdles or roadblocks which you can't handle. Your timely actions will help you resolve the problems and will also make you able to march forward amid some challenges.


Year – 8

Highlights of Year – 8

The influence of Moon Mahadasha and Mars Antardasha will rule till 12 March 2030. Your next Antardasha lord will be Rahu


January to March 2030

Planetary forces from the beginning of this quarter seem significantly beneficial for your business growth and enhancement. You would be able to perform better than ever at work. During this time, your performance and output will be on zenith. Work should be on a smooth sail and you are likely to succeed in matters of importance. Your new endeavours would also see success. You are also likely to obtain gains through government authorities, if any. Your enthusiasm is likely to be at its top and you would be relieved from all the past confusion or obstacles.


April to June 2030

This quarter also looks more comfortable for you. Your success would boost your self-confidence and strengthen your will power during this time. This is the ideal time for long term business and financial planning and this will ensure good financial rewards. Your mind will be capable of much expansion and growth now. Your performance level will be quite better in this phase. It is a good time to negotiate contracts or seek new opportunities through communication. Plus, your enemies would be defeated and you would be at peace with your mind. this quarter will bring fruitful results, feels Ganesha.


July to September 2030

Ganesha says planetary configurations of your horoscope mostly indicate happiness and success in your endeavours. You may expect successful completion of your plans and you would be more devoted to your work or profession during this time. Here, you may also expect that much awaited profits or gains through your hard work. Benefits may come through associates, directors or partners during this cycle. During the last three weeks, you may feel sort of uncomfortable at work. You need to remain well focused and prepared to put up extra efforts to achieve the desired results.


October to December 2030

During this period, you will try to push hard to hit your targets and your fearless approach is likely to let you achieve your goals. However, you may experience constraints around this phase as you may be unable to find the desired options so easily and that might frustrate you. So, your temperament will require a good control during this time period. This period may bring some stressful feelings in your current assignments, however, the difficult conditions will bring out the best in you.


Year – 9

Highlights of Year – 9

Your Moon Mahadasha and Rahu Antardasha will rule till 11 September 2031. Then, Jupiter will be your next Antardasha lord.


January to March 2031

The initial three weeks of this quarter will demand hard work and special dedication towards your projects. All the hard work that you put in will bring good results from fourth week. As the quarter progresses, You may bag some vital contracts which is very much required for the overall growth of the business. Financially, you will be able to improve your position, from where you are. You shall come across a new source for boosting your earnings. Your solid financial planning shall help you to remove the obstacles and achieve the goals.


April to June 2031

As this period begins, you will plan better business strategies to outsmart others. Make the necessary changes to accommodate new business prospects. As the period progresses, you will have to observe patience and try to ease the pressure by working even harder. The later parts shall present you with new growth opportunities but of course you must have to put some extra efforts to see the successful completion of your undertakings. Investing funds for development purposes may be on your mind.


July to September 2031

During the first half of this quarter, you may have more clarity about how to proceed further in your business arena. You need to strike the perfect note at a perfect pitch at a perfect time. However, review your task at hand and make a proper schedule that has to be adhered to. As the period progresses, planets may help you to execute your tasks well. You can work hard and place yourself in a comfortable position. Your mind will be in working mode round the clock to further your ambitions. At the month-end, your core focus would be on building new partnerships and getting results for old pending tasks.


October to December 2031

Planetary situations during the major parts of this quarter seem good and supportive to explore new territory to boost sales and increase turnover overall. There are still many areas to be explored and opportunities to get hold of. Your approach shall be positively responded. However, some days requires special care and attention to all matters. Disturbance during routine activities can make your task more challenging during last four weeks. Hence, you will need to make some intelligent moves to move forward on the road to progress.


Year – 10

Highlights of Year – 10

This entire year will be ruled by Moon Mahadasha and Jupiter Antardasha.


January to March 2032

As this quarter begins, planets will demand you to move ahead with a different strategy. This period will also let you put an end to an old alliance or useless mechanism, which may not be an easy decision to take. The well-executed business plan will help you gain a competitive edge during this phase which will prove to be beneficial for the growth of your business. Though you may have steady income there may be some commitment pressure and that might not allow you to have enough financial freedom.


April to June 2032

This period will be very perfect to increase the business and successfully bring the objectives and goals of the company and to boost the sales in the market. This month will require you to associate with many people and make and create tie-ups with others to increase business to achieve the desirable objectives that are beneficial for the business. It is a favorable time to undertake any documentation work related to the financial segment. But, it is highly advised to avoid taking any haphazard decision pertaining to property or other assets.


July to September 2032

The major parts of this month may remain positive and satisfactory for you. But, do not make too many changes or alterations in your budgeting. Your efforts to open up new avenues for an increase in overall financial income shall be successful. Post mid-quarter, try to be attentive and focus in finishing your assignments and objectives, which shall give you a sense of comfort and satisfaction in your business. Gradually, there will be positive momentum in your business in terms of the boost in sales and an increase in transactional activities.


October to December 2032

In this quarter, you would be able to work in a more focused and dedicated manner now and will be able to confidently put across your views in important situations. People may notice a sudden change in your attitude and may sometimes feel that you are forceful and persuasive. The more you express yourself and exhibit your talents, the higher the chances of attracting gains and opportunities would be. Overall, this quarter would bless you with success in your endeavours.

Personalized Remedial Solutions
The Primary Solution: The Ideal Most Gemstone For You
After wearing this empowered
Ruby
, you will have strong spirit of reform with a positive and visionary outlook. This Gemstone may provide you a strong sense of identity, abundant vitality, and personal confidence. Problems in your life may be overcome by bravery, self-assertion, and directness. Your heightened mental and physical fitness will come along with sound health and absence of diseases. After wearing this gemstone, you will start getting favors and recognitions from top authorities. You feel energetic and enthusiastic, and will experience a heightened ability to overcome obstacles
Please Note: For a limited period, we are offering the beautifully designed Panchdhatu Ring, absolutely free of cost! It means, now you only have to pay for the Gemstone!
The Energization of the Gemstones
It is important to note that a gemstone is powerless unless it is energized in a correct manner. The gemstone needs to be purified and made free of all impurities, before you can wear it.
But, you need not worry about the procedure and rituals, as, we at GaneshaSpeaks.com, have developed a traditional and authentic method to cleanse, energize and attune a gemstone, specially for you! It is based on our deep research and understanding of the Vedas and the related astrological scriptures.
So, the gemstone that you order, WILL BE READY TO WEAR!
Personalized Puja for you:
Further, we also recommend you to avail our Shani Rahu Shapit Dosha Nivarana Puja Service which is very necessary to tone down the malefic effects of this Dosha.
Introduction
Saturn – the planet of stability, patience and justice being in conjunction with the ruthless malefic planet – Rahu, results into the Shani-Rahu Shapit Dosha, and is one of the highly unfavourable Yogas in Astrology. Saturn happens to be the planet which represents our hard work and efforts, and it being in association of Rahu, will not let your all your efforts bear fruit and fetch the expected results. Also, your goodwill will get dented because of this inauspicious combination. The planets representing dissatisfaction and troubles being in conjunction, doesn't also augur well for your overall happiness and contentment. The Shani Rahu Shapit Dosha Nivaran Puja is the most effective Vedic way to nullify the evil effects of the Dosha.
How it works ?
Shani Rahu Sapit Dosha Nivarn Puja includes the Puja of Kalash and the other five important deities, namely, Ganesh, Shiva, Matruka, Navagraha, and Pradhan-Devta. Puja involves chanting/ reciting Shani (23000 times) and Rahu (18000 times) Bija Mantra. Then, ""HOMA"" (Havan) ritual is performed wherein, Ghee, Seasam, Barley, and other sacred material related to Lord Saturn and Rahu will be offered to Agni while reciting 2300 Mantras of Saturn and 1800 Mantra of Rahu. Yagya / Homa is a significant remedy to remove the evil effect of the Shrapit Dosha in your chart. To get maximum positive results, Puja will be performed on the nearest best Muhurat i.e in a Nakshatra of Rahu or Saturn and on Saturday or Wednesday. To complete the Puja during the Muhurta, GaneshaSpeaks will appoint a team of 4 priests led by an Aacharya who are masters of the Vedic rituals.
Link :-
Click Here
Benefits of this Pooja
- Remove the negative influence of Shrapit Dosha
- Get protection from the curse of past life
- Maintain harmony and prevent family disputes
- Get positive results of your hard work in professional life
- Destress your relationship and save you from separation from loved ones
- Overcome issues of restlessness and anxiety in life
Our Solution Experts can help you in clearing your doubts or concerns related to predictions or remedies. To contact us on Email, click here.
With Ganesha's Grace,
Your Personal Astrologer
The GaneshaSpeaks.com Team
Birth Particulars

Gender

Male

Latitude

22N48

Birth Date

24 Oct 1968

Longitude

86E11

Birth Day

Thursday

Lagna

Sagittarius-16:59:24

Birth Time

11:01 hrs

Aynamsh

23:25:07

Birth Place

Jamshedpur

Moon Sign

Scorpio

Country

India

Birth Nakshatra

Anuradha

Timezone

0530 hrs

Nakshatra Pada

2
Avakhada Chakra (Your Birth Panchang)
Description: The table shown here contains various astrological terms which are obtained from your own Moon's position. Hence, this table is very useful in Vedic Astrology as it shows your own personalized information. This helps the native to determine the compatibility with others.

Birth Yog

Shaubhagya

Birth Vasya

Kit

Birth Karan

Gara

Birth Yoni

Mrig

Birth Varga

Sarp

Birth Gana

Dev

Birth Varna

Brahmin

Birth Yunja

Madhya

Birth Tatva

Vari

Birth Nadi

Madhya
Ghaat Chakra
Description: As the name suggests, Ghaat literally means negative or inauspicious. This table shows your personalized negative phenomenon of Panchang in which you should take extra care and precaution. Plus, the suggested day, tithi, month, nakshatra etc... should also be avoided to initiate any new or auspicious work.

Month

Ashwini

Tithi

Shuklatritiya

Day

Friday

Nakshatra

Revati

Yog

Vyatipat

Karan

Gara

Prahar

First

MaleMoon

Taurus

FemaleMoon

Sagittarius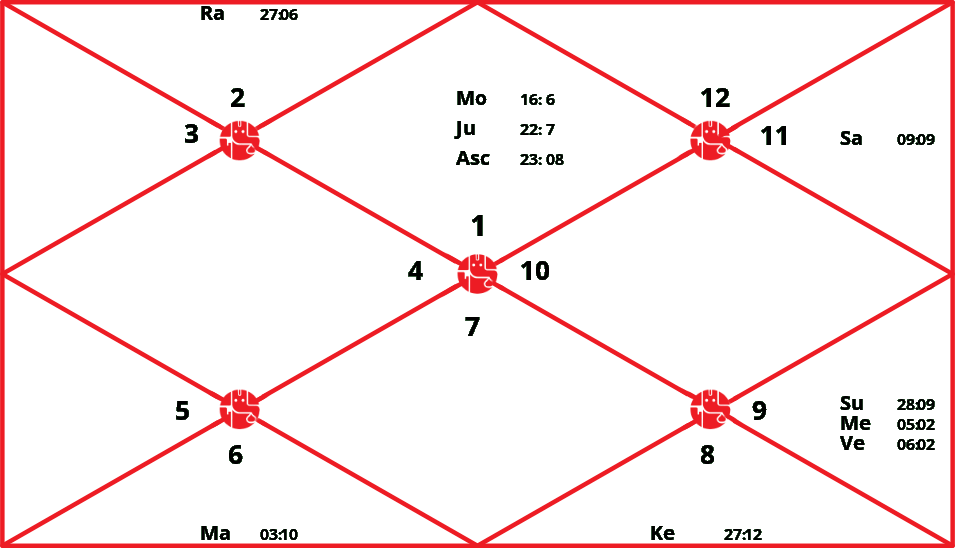 Grah
Rashi-Ansh
Nakshatra-Pad
Ra Swa
Na Swa
Awastha
Lagna
Sagittarius-

16:59:24

Purvashadha -

2

Jupiter
Venus
Yuva
Sun
Libra-

07:27:26

Swati -

1

Venus
Rahu
Kumar
Moon
Scorpio-

09:39:55

Anuradha -

2

Mars
Saturn
Vruddha
Mars
Leo-

26:46:23

Uttarafalguni -

1

Sun
Sun
Mruta
Mercury
Virgo-

22:19:25

Hast -

4

Mercury
Moon
Kumar
Jupiter
Virgo-

02:26:38

Uttarafalguni -

2

Mercury
Sun
Mruta
Venus
Scorpio-

10:14:53

Anuradha -

3

Mars
Saturn
Vruddha
Saturn
Pisces-

27:57:57

Revati -

4

Jupiter
Mercury
Balya
Rahu
Pisces-

14:48:34

Uttarabhadrapad -

4

Jupiter
Saturn
Yuva
Ketu
Virgo-

14:48:34

Hast -

2

Mercury
Moon
Yuva
Harshal
Virgo-

08:07:48

Uttarafalguni -

4

Mercury
Sun
Vruddha
Neptune
Scorpio-

01:55:20

Vishakha -

4

Mars
Jupiter
Mruta
Pluto
Virgo-

00:36:20

Uttarafalguni -

2

Mercury
Sun
Mruta
Moon Chart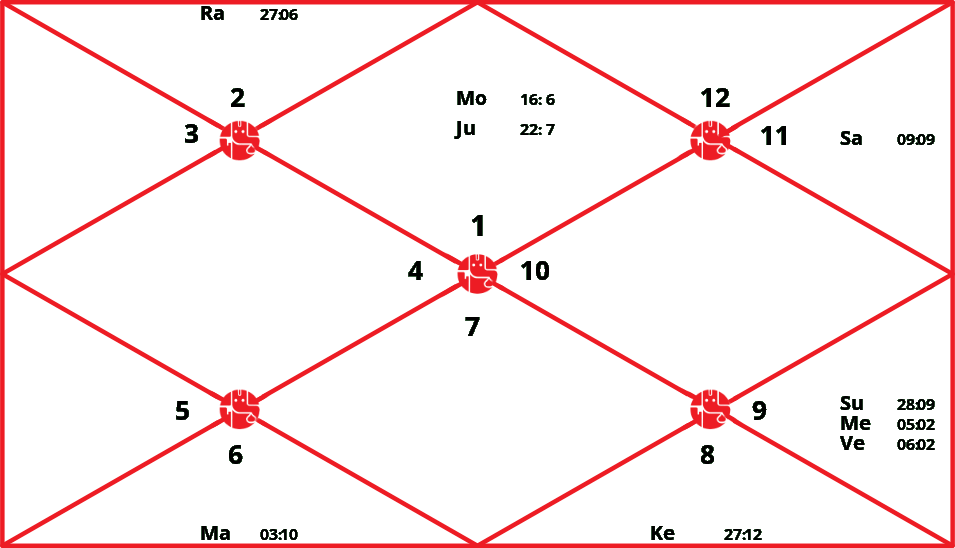 Navamsha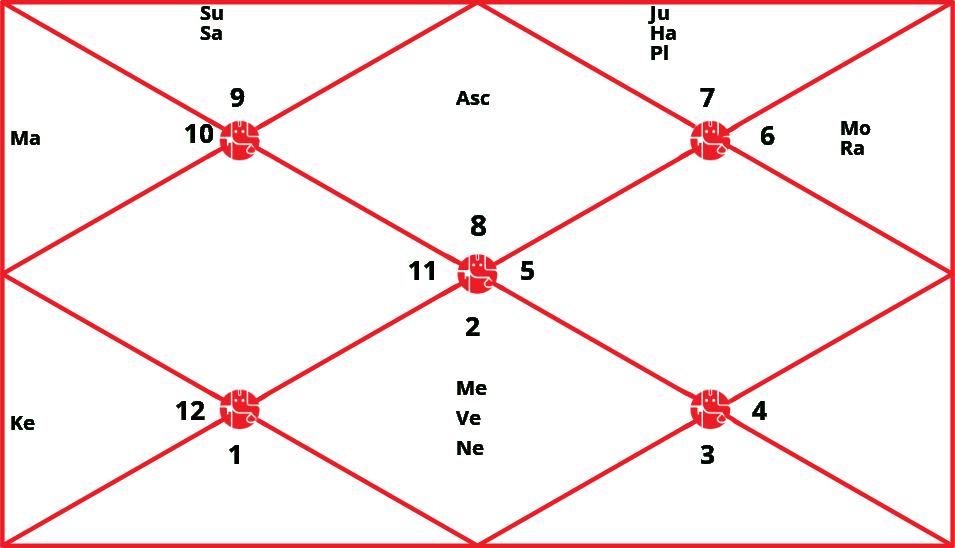 Ashtakavarga Kundli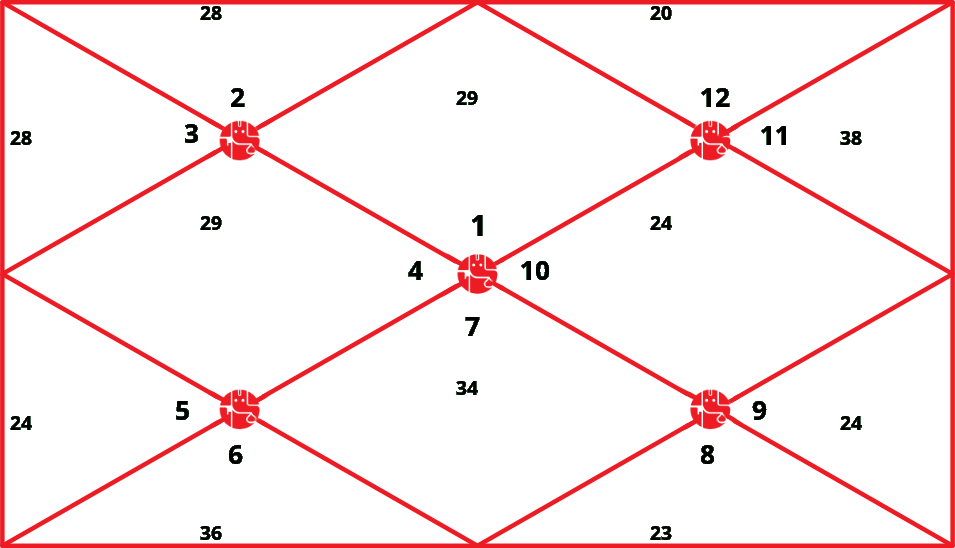 Vimshottari Mahadasha and Antardashas
| | | |
| --- | --- | --- |
| Saturn | 25 Oct 1959 | 26 Oct 1962 |
| Mercury | 26 Oct 1962 | 03 Jul 1965 |
| Ketu | 03 Jul 1965 | 11 Aug 1966 |
| Venus | 11 Aug 1966 | 09 Oct 1969 |
| Sun | 09 Oct 1969 | 21 Sep 1970 |
| Moon | 21 Sep 1970 | 21 Apr 1972 |
| Mars | 21 Apr 1972 | 30 May 1973 |
| Rahu | 30 May 1973 | 03 Apr 1976 |
| Jupiter | 03 Apr 1976 | 14 Oct 1978 |
| | | |
| --- | --- | --- |
| Mercury | 14 Oct 1978 | 10 Mar 1981 |
| Ketu | 10 Mar 1981 | 07 Mar 1982 |
| Venus | 07 Mar 1982 | 03 Jan 1985 |
| Sun | 03 Jan 1985 | 09 Nov 1985 |
| Moon | 09 Nov 1985 | 10 Apr 1987 |
| Mars | 10 Apr 1987 | 06 Apr 1988 |
| Rahu | 06 Apr 1988 | 23 Oct 1990 |
| Jupiter | 23 Oct 1990 | 27 Jan 1993 |
| Saturn | 27 Jan 1993 | 05 Oct 1995 |
| | | |
| --- | --- | --- |
| Ketu | 05 Oct 1995 | 02 Mar 1996 |
| Venus | 02 Mar 1996 | 02 May 1997 |
| Sun | 02 May 1997 | 07 Sep 1997 |
| Moon | 07 Sep 1997 | 08 Apr 1998 |
| Mars | 08 Apr 1998 | 04 Sep 1998 |
| Rahu | 04 Sep 1998 | 22 Sep 1999 |
| Jupiter | 22 Sep 1999 | 28 Aug 2000 |
| Saturn | 28 Aug 2000 | 06 Oct 2001 |
| Mercury | 06 Oct 2001 | 03 Oct 2002 |
| | | |
| --- | --- | --- |
| Venus | 03 Oct 2002 | 30 Jan 2006 |
| Sun | 30 Jan 2006 | 30 Jan 2007 |
| Moon | 30 Jan 2007 | 29 Sep 2008 |
| Mars | 29 Sep 2008 | 29 Nov 2009 |
| Rahu | 29 Nov 2009 | 27 Nov 2012 |
| Jupiter | 27 Nov 2012 | 27 Jul 2015 |
| Saturn | 27 Jul 2015 | 24 Sep 2018 |
| Mercury | 24 Sep 2018 | 23 Jul 2021 |
| Ketu | 23 Jul 2021 | 22 Sep 2022 |
| | | |
| --- | --- | --- |
| Sun | 22 Sep 2022 | 10 Jan 2023 |
| Moon | 10 Jan 2023 | 12 Jul 2023 |
| Mars | 12 Jul 2023 | 17 Nov 2023 |
| Rahu | 17 Nov 2023 | 10 Oct 2024 |
| Jupiter | 10 Oct 2024 | 29 Jul 2025 |
| Saturn | 29 Jul 2025 | 11 Jul 2026 |
| Mercury | 11 Jul 2026 | 17 May 2027 |
| Ketu | 17 May 2027 | 22 Sep 2027 |
| Venus | 22 Sep 2027 | 21 Sep 2028 |
| | | |
| --- | --- | --- |
| Moon | 21 Sep 2028 | 22 Jul 2029 |
| Mars | 22 Jul 2029 | 20 Feb 2030 |
| Rahu | 20 Feb 2030 | 21 Aug 2031 |
| Jupiter | 21 Aug 2031 | 19 Dec 2032 |
| Saturn | 19 Dec 2032 | 20 Jul 2034 |
| Mercury | 20 Jul 2034 | 19 Dec 2035 |
| Ketu | 19 Dec 2035 | 19 Jul 2036 |
| Venus | 19 Jul 2036 | 19 Mar 2038 |
| Sun | 19 Mar 2038 | 18 Sep 2038 |
| | | |
| --- | --- | --- |
| Mars | 18 Sep 2038 | 14 Feb 2039 |
| Rahu | 14 Feb 2039 | 03 Mar 2040 |
| Jupiter | 03 Mar 2040 | 07 Feb 2041 |
| Saturn | 07 Feb 2041 | 18 Mar 2042 |
| Mercury | 18 Mar 2042 | 15 Mar 2043 |
| Ketu | 15 Mar 2043 | 11 Aug 2043 |
| Venus | 11 Aug 2043 | 10 Oct 2044 |
| Sun | 10 Oct 2044 | 15 Feb 2045 |
| Moon | 15 Feb 2045 | 16 Sep 2045 |
| | | |
| --- | --- | --- |
| Rahu | 16 Sep 2045 | 27 May 2048 |
| Jupiter | 27 May 2048 | 19 Oct 2050 |
| Saturn | 19 Oct 2050 | 23 Aug 2053 |
| Mercury | 23 Aug 2053 | 10 Mar 2056 |
| Ketu | 10 Mar 2056 | 28 Mar 2057 |
| Venus | 28 Mar 2057 | 26 Mar 2060 |
| Sun | 26 Mar 2060 | 17 Feb 2061 |
| Moon | 17 Feb 2061 | 18 Aug 2062 |
| Mars | 18 Aug 2062 | 05 Sep 2063 |
| | | |
| --- | --- | --- |
| Jupiter | 05 Sep 2063 | 22 Oct 2065 |
| Saturn | 22 Oct 2065 | 03 May 2068 |
| Mercury | 03 May 2068 | 08 Aug 2070 |
| Ketu | 08 Aug 2070 | 15 Jul 2071 |
| Venus | 15 Jul 2071 | 13 Mar 2074 |
| Sun | 13 Mar 2074 | 30 Dec 2074 |
| Moon | 30 Dec 2074 | 29 Apr 2076 |
| Mars | 29 Apr 2076 | 05 Apr 2077 |
| Rahu | 05 Apr 2077 | 28 Aug 2079 |