Index
| Index | Title |
| --- | --- |
| 1 | Answer To Your Question |
| 2 | Career (From January 2023 to December 2023) |
| 3 | Career (From January 2024 to December 2024) |
| 4 | Personalized Remedial Solution |
| 5 | Birth Details & Charts |
| | A. Birth Particulars |
| | B. Birth Chart |
| | C. Moon Chart |
| | D. Navamsha Chart |
| | E. Vimshottari Mahadasha And Antardashas Table |
Answer To Your Question
(Your question: when will i change the job?)

Dear Devdutt,

The quick answer to your question is that the period starting from October 2023 will bring some betterment in your professional path and you may expect next-level career growth in this phase. To your knowledge, the period between October 2023 and June 2024 will remain a favorable phase for you to change your job. Still, if you remain sticky with your current job and organization, you will be able to get better career growth.

In other words, the period until September 2023 will remain a mixed phase for your career growth. So you should avoid making hasty steps your way, so a job change is not advisable meanwhile. However, it doesn't mean that you will not get any new job opportunities. The opportunities you get may not match your expectation until September 2022, hence it's better to keep some patience and move ahead with step-wise manners.

I hope this answers your question.
Career (From January 2023 to December 2023)
During the period till the end of March 2023, we can say by your planetary position the atmosphere of your working place will become very frustrating and political, so beware about your regular attendance and performance otherwise you will be pinpointed by your boss and this could make you feel very demotivated. In this phase, you will be geared up to take on new assignments and tasks. A high level of competition will be making your work even harder to get things done as per your expectations.

In the period between April 2023 and June 2023, you will be acting on your feelings but you must understand that it might get you into confusion if you are not truly focused. Tempers may flare and squabbles are possible, and you could be feeling the pressure. At such times you have to stay calm if you want to improve in your career and grow in your field. You should control your emotions otherwise, everything will get destroyed. You will be very busy and potentially very productive as well.

During the third quarter of 2023, you may have a larger workload than usual. It might be a tough task for you to work with others harmoniously. You need to channelize your energy constructively. But, you may need someone's help to do what you want to do during this phase. Your ambition will be stimulated. Now, you will take the lead and make your move. You have an opportunity now to take the initiative to achieve your goals.

The last quarter of 2023 is going to be a good phase for your career growth and progression. Career-wise you will flourish if you put in your hard work and give in your best. If you put in the required efforts then everything will go well for you and things will get better with time. The period till December 2023 we can say that in this period good things are finally going to happen, a quite normal period will be there for your job and employment.
Career (From January 2024 to December 2024)
In the first quarter of 2024, you may have wonderful coordination with your boss and your colleagues along with your subordinates or peons. Anger or aggression toward anyone will not give you peace of mind and will be damaging your image. Listen more to your immediate boss without excuses and complaints. The desire for earning more or for a hike in salary may prevail in you but don't let this be known to your boss. You will not get complete support from your seniors positively or when it comes to motivation as well. You will be multitasking in the future so be ready mentally and physically.

Until June 2024 the work area is getting better than before. Good performance, better chances for achieving targets, getting more benefits than before, and much more situations will be there for your betterment of you. Avoid anger, aggression, and hasty decisions during this period. Any sudden idea or concept of your boss or yours has to be taken positively and has to be evaluated so that you can be sure of great success.

The period starting from July 2024 will remain a mixed phase for your overall growth. Plus, you should take care of your health, coordination, cooperation, abilities, talents, and confidence. Lack of any one of the above can give you frustration resulting in anger, aggression, or harsh and bitter conversations with anybody in your organization. On the day when you feel low; avoid taking any big important decision without advice and discussion and try not to be rude to your higher-ups. The desire for better performance and accuracy will be there in you but the negative vibrations affecting your personal and professional life may hamper your targets and you may feel a delay in completing the tasks before the deadline.

In the last quarter of 2024, you may have some of the other ill effects of the negative vibrations and malefic energies which are not letting you enjoy either your personal or professional life as well. Let not your problems affect your work area; which is quite possible as well. In this phase, you may not be able to feel comfortable completely at your workplace and then it may give you some confusion as well. Listen to whatever your seniors say with patience and without complaining.
Personalized Remedial Solutions
The Primary Solution: The Ideal Most Gemstone For You
After wearing this empowered
Emerald
gemstone, you are likely to remain involved in gaining knowledge and mental development for many years. As it is your functional benefic planet, your wealth will also increase and you will also accomplish your undertakings successfully and on time. It may also increase the material comforts and pleasures in your life. Overall, this may provide ease of working and general good fortune to you. Most positive side of wearing this gemstone is, you would not run short of money and will also have substantial financial gains at regular interval.
Please Note: For a limited period, we are offering the beautifully designed Panchdhatu Ring, absolutely free of cost! It means, now you only have to pay for the Gemstone!
The Energization of the Gemstones
It is important to note that a gemstone is powerless unless it is energized in a correct manner. The gemstone needs to be purified and made free of all impurities, before you can wear it.
But, you need not worry about the procedure and rituals, as, we at GaneshaSpeaks.com, have developed a traditional and authentic method to cleanse, energize and attune a gemstone, specially for you! It is based on our deep research and understanding of the Vedas and the related astrological scriptures.
So, the gemstone that you order, WILL BE READY TO WEAR!
Personalized Puja for you:
Further, we also recommend you to avail our Rudrabhishekam Puja Service which is highly beneficial to balance natal planetary energies.
The Puja involves offering raw milk, ghee, honey, curd, and mustard oil to Shivling with divine chanting of Vedic Mantras in a prescribed manner.
Link:
Click Here
Benefits of this Pooja
:
Performing a Rudrabhishekam Puja can bring success, happiness and peace of mind.
This Puja can bring wellness, goodness, happiness, and synchronization to our life.
Also, it helps remove Karmic blockages which affect our progress.
Especially now, it can provide positive energy to sail through these troubled times.
Our Solution Experts can help you in clearing your doubts or concerns related to predictions or remedies. To contact us on Email, click here.
With Ganesha's Grace,
Your Personal Astrologer
The GaneshaSpeaks.com Team
Birth Particulars

Gender

Male

Latitude

21N12

Birth Date

01 Jan 2012

Longitude

72E49

Birth Day

Friday

Lagna

Virgo-26:37:3

Birth Time

08:30 hrs

Aynamsh

23:42:33

Birth Place

Surat

Moon Sign

Aquarius

Country

India

Birth Nakshatra

Purvabhadrapad

Timezone

0530 hrs

Nakshatra Pada

2
Avakhada Chakra (Your Birth Panchang)
Description: The table shown here contains various astrological terms which are obtained from your own Moon's position. Hence, this table is very useful in Vedic Astrology as it shows your own personalized information. This helps the native to determine the compatibility with others.

Birth Yog

Shul

Birth Vasya

Manav

Birth Karan

Bav

Birth Yoni

Simha

Birth Varga

Mesh

Birth Gana

Manushya

Birth Varna

Kshudra

Birth Yunja

Antya

Birth Tatva

Vayu

Birth Nadi

Adhya
Ghaat Chakra
Description: As the name suggests, Ghaat literally means negative or inauspicious. This table shows your personalized negative phenomenon of Panchang in which you should take extra care and precaution. Plus, the suggested day, tithi, month, nakshatra etc... should also be avoided to initiate any new or auspicious work.

Month

Chaitra

Tithi

Purnima

Day

Thursday

Nakshatra

Aadra

Yog

Gand

Karan

Kistughna

Prahar

Third

MaleMoon

Sagittarius

FemaleMoon

Gemini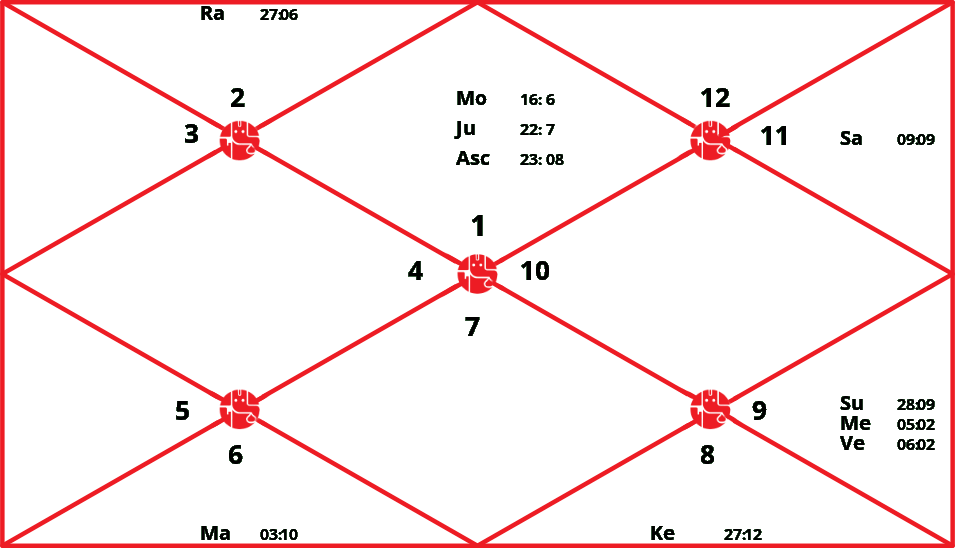 Grah
Rashi-Ansh
Nakshatra-Pad
Ra Swa
Na Swa
Awastha
Lagna
Virgo-

26:37:3

Chitra -

1

Mercury
Mars
Balya
Sun
Leo-

28:32:49

Uttarafalguni -

1

Sun
Sun
Mruta
Moon
Aquarius-

23:23:49

Purvabhadrapad -

2

Saturn
Jupiter
Vruddha
Mars
Virgo-

03:23:19

-C

Uttarafalguni -

3

Mercury
Sun
Mruta
Mercury
Virgo-

16:16:27

Hast -

2

Mercury
Moon
Yuva
Jupiter
Gemini-

14:11:19

Aadra -

3

Mercury
Rahu
Yuva
Venus
Libra-

09:20:04

Swati -

1

Venus
Rahu
Kumar
Saturn
Sagittarius-

13:36:27

Purvashadha -

1

Jupiter
Venus
Yuva
Rahu
Aquarius-

00:25:49

Dhanistha -

3

Saturn
Mars
Balya
Ketu
Leo-

00:25:49

Magha -

1

Sun
Ketu
Balya
Harshal
Sagittarius-

07:38:27

Mool -

3

Jupiter
Ketu
Kumar
Neptune
Sagittarius-

15:54:27

Purvashadha -

1

Jupiter
Venus
Yuva
Pluto
Libra-

19:27:42

Swati -

4

Venus
Rahu
Vruddha
Moon Chart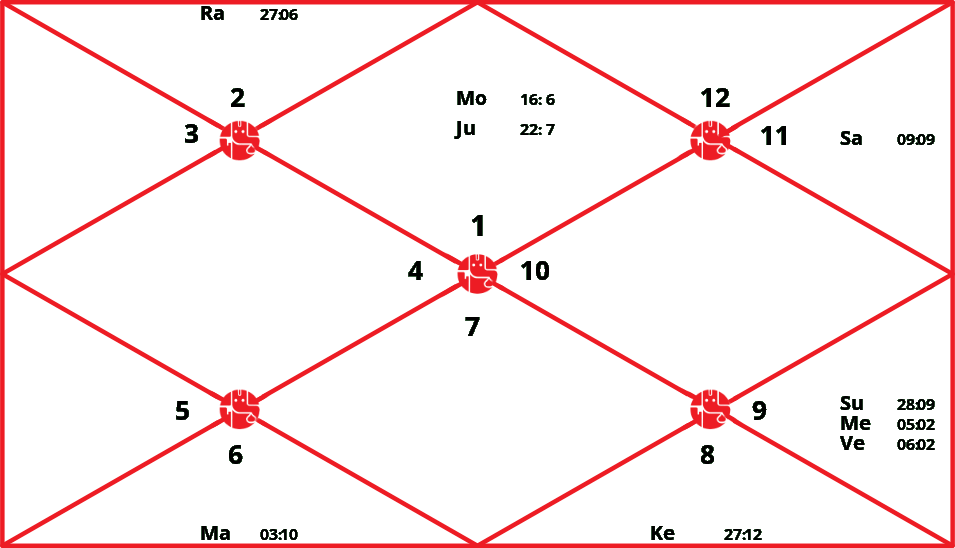 Navamsha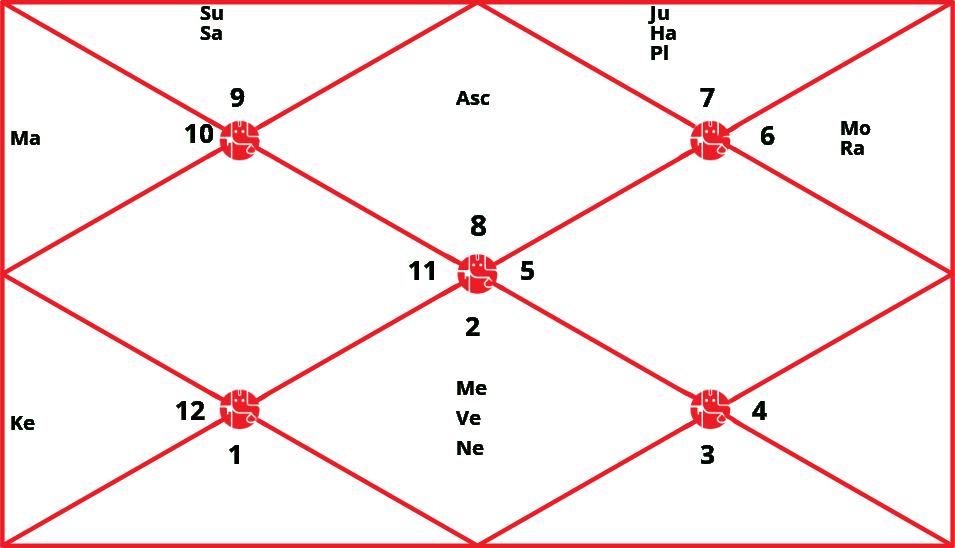 Ashtakavarga Kundli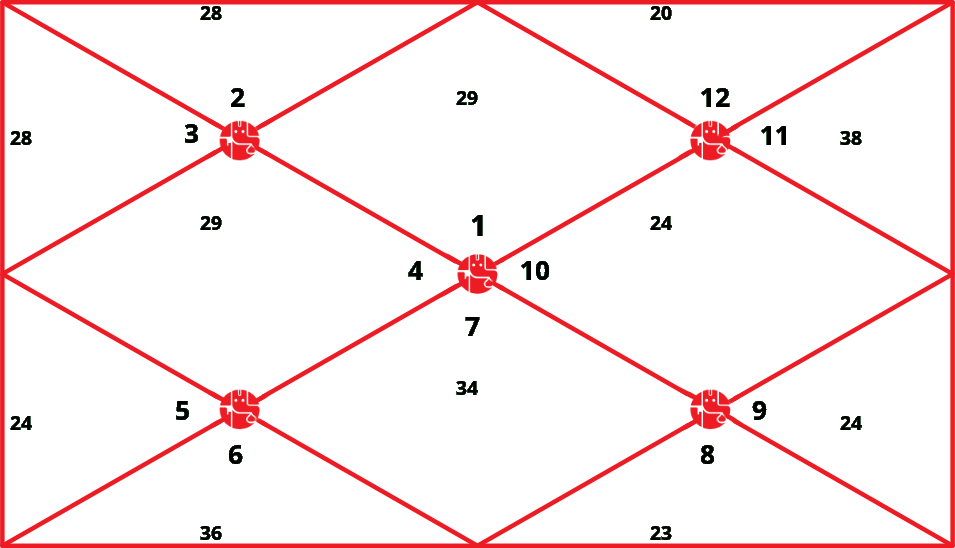 Vimshottari Mahadasha and Antardashas
| | | |
| --- | --- | --- |
| Jupiter | 23 Aug 1985 | 10 Oct 1987 |
| Saturn | 10 Oct 1987 | 21 Apr 1990 |
| Mercury | 21 Apr 1990 | 26 Jul 1992 |
| Ketu | 26 Jul 1992 | 02 Jul 1993 |
| Venus | 02 Jul 1993 | 29 Feb 1996 |
| Sun | 29 Feb 1996 | 17 Dec 1996 |
| Moon | 17 Dec 1996 | 17 Apr 1998 |
| Mars | 17 Apr 1998 | 24 Mar 1999 |
| Rahu | 24 Mar 1999 | 15 Aug 2001 |
| | | |
| --- | --- | --- |
| Saturn | 15 Aug 2001 | 16 Aug 2004 |
| Mercury | 16 Aug 2004 | 24 Apr 2007 |
| Ketu | 24 Apr 2007 | 01 Jun 2008 |
| Venus | 01 Jun 2008 | 31 Jul 2011 |
| Sun | 31 Jul 2011 | 12 Jul 2012 |
| Moon | 12 Jul 2012 | 10 Feb 2014 |
| Mars | 10 Feb 2014 | 21 Mar 2015 |
| Rahu | 21 Mar 2015 | 23 Jan 2018 |
| Jupiter | 23 Jan 2018 | 04 Aug 2020 |
| | | |
| --- | --- | --- |
| Mercury | 04 Aug 2020 | 30 Dec 2022 |
| Ketu | 30 Dec 2022 | 27 Dec 2023 |
| Venus | 27 Dec 2023 | 25 Oct 2026 |
| Sun | 25 Oct 2026 | 31 Aug 2027 |
| Moon | 31 Aug 2027 | 29 Jan 2029 |
| Mars | 29 Jan 2029 | 26 Jan 2030 |
| Rahu | 26 Jan 2030 | 13 Aug 2032 |
| Jupiter | 13 Aug 2032 | 18 Nov 2034 |
| Saturn | 18 Nov 2034 | 26 Jul 2037 |
| | | |
| --- | --- | --- |
| Ketu | 26 Jul 2037 | 22 Dec 2037 |
| Venus | 22 Dec 2037 | 21 Feb 2039 |
| Sun | 21 Feb 2039 | 29 Jun 2039 |
| Moon | 29 Jun 2039 | 28 Jan 2040 |
| Mars | 28 Jan 2040 | 25 Jun 2040 |
| Rahu | 25 Jun 2040 | 13 Jul 2041 |
| Jupiter | 13 Jul 2041 | 19 Jun 2042 |
| Saturn | 19 Jun 2042 | 28 Jul 2043 |
| Mercury | 28 Jul 2043 | 24 Jul 2044 |
| | | |
| --- | --- | --- |
| Venus | 24 Jul 2044 | 21 Nov 2047 |
| Sun | 21 Nov 2047 | 20 Nov 2048 |
| Moon | 20 Nov 2048 | 21 Jul 2050 |
| Mars | 21 Jul 2050 | 20 Sep 2051 |
| Rahu | 20 Sep 2051 | 18 Sep 2054 |
| Jupiter | 18 Sep 2054 | 17 May 2057 |
| Saturn | 17 May 2057 | 15 Jul 2060 |
| Mercury | 15 Jul 2060 | 14 May 2063 |
| Ketu | 14 May 2063 | 13 Jul 2064 |
| | | |
| --- | --- | --- |
| Sun | 13 Jul 2064 | 31 Oct 2064 |
| Moon | 31 Oct 2064 | 02 May 2065 |
| Mars | 02 May 2065 | 07 Sep 2065 |
| Rahu | 07 Sep 2065 | 01 Aug 2066 |
| Jupiter | 01 Aug 2066 | 20 May 2067 |
| Saturn | 20 May 2067 | 01 May 2068 |
| Mercury | 01 May 2068 | 07 Mar 2069 |
| Ketu | 07 Mar 2069 | 13 Jul 2069 |
| Venus | 13 Jul 2069 | 13 Jul 2070 |
| | | |
| --- | --- | --- |
| Moon | 13 Jul 2070 | 13 May 2071 |
| Mars | 13 May 2071 | 12 Dec 2071 |
| Rahu | 12 Dec 2071 | 11 Jun 2073 |
| Jupiter | 11 Jun 2073 | 10 Oct 2074 |
| Saturn | 10 Oct 2074 | 10 May 2076 |
| Mercury | 10 May 2076 | 09 Oct 2077 |
| Ketu | 09 Oct 2077 | 10 May 2078 |
| Venus | 10 May 2078 | 08 Jan 2080 |
| Sun | 08 Jan 2080 | 09 Jul 2080 |
| | | |
| --- | --- | --- |
| Mars | 09 Jul 2080 | 05 Dec 2080 |
| Rahu | 05 Dec 2080 | 23 Dec 2081 |
| Jupiter | 23 Dec 2081 | 29 Nov 2082 |
| Saturn | 29 Nov 2082 | 07 Jan 2084 |
| Mercury | 07 Jan 2084 | 03 Jan 2085 |
| Ketu | 03 Jan 2085 | 01 Jun 2085 |
| Venus | 01 Jun 2085 | 01 Aug 2086 |
| Sun | 01 Aug 2086 | 07 Dec 2086 |
| Moon | 07 Dec 2086 | 08 Jul 2087 |
| | | |
| --- | --- | --- |
| Rahu | 08 Jul 2087 | 18 Mar 2090 |
| Jupiter | 18 Mar 2090 | 09 Aug 2092 |
| Saturn | 09 Aug 2092 | 14 Jun 2095 |
| Mercury | 14 Jun 2095 | 30 Dec 2097 |
| Ketu | 30 Dec 2097 | 17 Jan 2099 |
| Venus | 17 Jan 2099 | 16 Jan 2102 |
| Sun | 16 Jan 2102 | 10 Dec 2102 |
| Moon | 10 Dec 2102 | 09 Jun 2104 |
| Mars | 09 Jun 2104 | 27 Jun 2105 |