Index
| Index | Title |
| --- | --- |
| 1 | Answer To Your Question |
| 2 | |
| 3 | |
| 4 | Personalized Remedial Solution |
| 5 | Birth Details & Charts |
| | A. Birth Particulars |
| | B. Birth Chart |
| | C. Moon Chart |
| | D. Navamsha Chart |
| | E. Vimshottari Mahadasha And Antardashas Table |
Answer To Your Question
Dear Devdutt, after having a close look at your birth chart, divisional charts, and Dasha Bhukti along with planetary transits, I feel that some changes in the pattern of working and basics can become fruitful for the improvement in the professional life in 2023 are mentioned below, kindly go through it. If you still have any specific questions regarding your career, you can write us an email.

Remedies to be followed:-You should recite "Om Gan Ganapataye Namah" mantra 11 times every day and 21 times every Wednesday in front of the idol or picture of Lord Ganesha. You should start lighting an oil lamp in your existing living place in the evening time whenever you get time from your busy schedule. You should offer Anjali to the rising Sun with the recitation of Gayatri mantra 7 times a day and 11 times on Sunday.
February -June
At this time, you may feel a little slower pace in your career, and you may feel that your efforts are not paying you in the same manner. The time demands some compromise till 28th April 2023, so you should keep patience and you must be flexible in your approach in accepting the situation at your work front to get the fruits of your efforts. As per the planetary position you are the man of principles which are the rules set by your own and you may not compromise with them, that is affecting your career and the results too. Your fortune is also not favoring you and creating challenges and maintaining harmony with your immediate boss. It would also be handled with flexibility. Start reciting Gayatri's mantra to cope with the situation.

In your chart, your 10th lord is in the 6th house with your 4th and 5th lord, on one hand, it is creating the Raj yoga. On the other hand, being in the combustion of both of your 5th and 10th lords is affecting your career. From 23rd April 2023, Jupiter will be 4th to your Moon sign, which brings positive changes in the job, if you wish to. if you get any offer of change before 10th August 2023, analyze it before accepting.
July -December
This time has positive notes as the transit of Jupiter along with the Dasha of Jupiter, this will bring a change in the professional sector either you make a change in the job or you may get the transfer. Planets will give you the platform to exhibit your capabilities. But do not forget to recite the Gayatri mantra in any case.

You believe in teamwork, and you very well know how to give the personal touch to the people around you and you have a special quality of making way for yourself in complicated situations. On the contrary, you cannot resist raising your voice for others, you must keep in mind everybody is capable to fight his own battle. For a fruitful career, you must leave behind this habit of you raising your voice for others. This year especially needs the same from you. Keep your confidence level high, should not lose in any case at this time.

Despite all the good, you sometimes also show an adamant attitude and develop the feeling of solitude, which is hampering your talent and capacity for work, this is not a fruitful position for a good career. So, you must try to check this aspect of your nature at your work front also.

Personalized Remedial Solutions
The Primary Solution: The Ideal Most Gemstone For You
After wearing
White Sapphire
, you would feel generally happy with whatever comes to you or whatever you do. A feeling of satisfaction would rule your mind. This gemstone is auspicious for money matters and all the material comforts. You will be able to accomplish all your tasks and take well thought-out decisions. You will also get the support of your family and women will have great contribution behind your success. A standard and empowered White Topaz can bring a positive boost in your professional and personal life. You will also be able to progress in your career with an increased recognition from the employer or other top authorities.
Please Note: For a limited period, we are offering the beautifully designed Panchdhatu Ring, absolutely free of cost! It means, now you only have to pay for the Gemstone!
The Energization of the Gemstones
It is important to note that a gemstone is powerless unless it is energized in a correct manner. The gemstone needs to be purified and made free of all impurities, before you can wear it.
But, you need not worry about the procedure and rituals, as, we at GaneshaSpeaks.com, have developed a traditional and authentic method to cleanse, energize and attune a gemstone, specially for you! It is based on our deep research and understanding of the Vedas and the related astrological scriptures.
So, the gemstone that you order, WILL BE READY TO WEAR!
Personalized Puja for you:
Further, we also recommend you to avail our Shani Puja Service which is very necessary to balance the energy of planet Saturn in your horoscope.
Introduction
Saturn of Shani indicates traits & abilities related to long term values. Responsibilities, commitment, the ability to deal with grief, stability & longevity are also governed by Saturn. Moreover, it plays the role of a teacher who teaches you the most important lessons of your life during its transit i.e Sadesati or Dhaiya. A strong Saturn in your birth chart can bring success in all your endeavors, gives happiness and courage to win over your enemies, popularity, and much more. But, an unfavorable placement of Saturn in your birth chart is likely to bring misery, sorrow, poverty, bad luck, loss, punishments, etc, based on your past deeds.
How it works ?
Shani (Saturn) Puja is performed with Shodashopachara steps along with reciting traditional Shani Mantra 23000 times. Puja also involves the ""HOMA"" (Havan) ritual wherein, ghee, sesame, barley, and other sacred material related to Lord Saturn will be offered to Agni while reciting 2300 Shanti (Sani) Mantras. Yagya is a significant remedy to remove the evil effects of the planets in your chart. To get maximum positive results, Puja will be performed on the nearest best Muhurat i.e Saturday or on day of ""Saturn Nakshatra"". In order to complete the Puja during the auspicious Muhurta, GaneshaSpeaks will appoint a team of 6 priests led by an Aacharya. All the priests are the masters of the Vedic rituals.
Link :-
Click Here
Benefits of this Pooja
- Reduce the effects of Shani Sadesati or Dhaiya (Panoti)
- Mitigate hardship & misfortunes created by Saturn
- Get favorable results of your hard work
- Overcome prolonged health issues
- Enhances positive effect of Saturn in your birth chart
- Attain peace of mind and remove negative thoughts
- Get Success in Business
- Gain name, fame, prosperity and wealth in life
Our Solution Experts can help you in clearing your doubts or concerns related to predictions or remedies. To contact us on Email, click here.
With Ganesha's Grace,
Your Personal Astrologer
Acharya Anvveshi
Birth Particulars

Gender

Male

Latitude

18N55

Birth Date

01 Jan 2012

Longitude

77E30

Birth Day

Tuesday

Lagna

Taurus-3:25:0

Birth Time

18:55 hrs

Aynamsh

23:38:29

Birth Place

Nanded

Moon Sign

Capricorn

Country

India

Birth Nakshatra

Uttarashadha

Timezone

0530 hrs

Nakshatra Pada

2
Avakhada Chakra (Your Birth Panchang)
Description: The table shown here contains various astrological terms which are obtained from your own Moon's position. Hence, this table is very useful in Vedic Astrology as it shows your own personalized information. This helps the native to determine the compatibility with others.

Birth Yog

Dhruti

Birth Vasya

Chatushpad

Birth Karan

Vanij

Birth Yoni

Nakul

Birth Varga

Mushak

Birth Gana

Manushya

Birth Varna

Vaishya

Birth Yunja

Antya

Birth Tatva

Bhumi

Birth Nadi

Antya
Ghaat Chakra
Description: As the name suggests, Ghaat literally means negative or inauspicious. This table shows your personalized negative phenomenon of Panchang in which you should take extra care and precaution. Plus, the suggested day, tithi, month, nakshatra etc... should also be avoided to initiate any new or auspicious work.

Month

Vaishakha

Tithi

Shuklasaptami

Day

Tuesday

Nakshatra

Rohini

Yog

Vaidhruti

Karan

Shakuni

Prahar

Forth

MaleMoon

Leo

FemaleMoon

Scorpio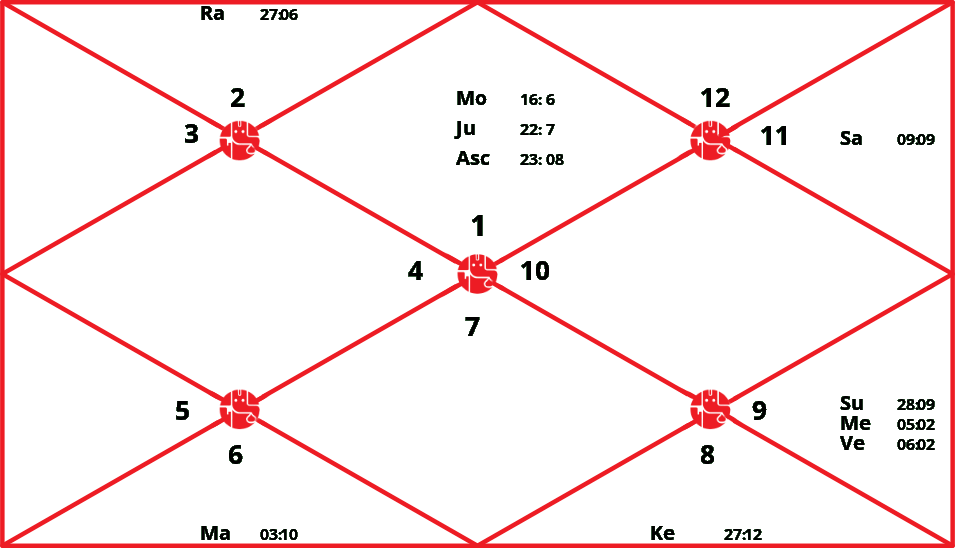 Grah
Rashi-Ansh
Nakshatra-Pad
Ra Swa
Na Swa
Awastha
Lagna
Taurus-

3:25:0

Krutika -

3

Venus
Sun
Mruta
Sun
Libra-

13:40:03

Swati -

3

Venus
Rahu
Yuva
Moon
Capricorn-

02:11:10

Uttarashadha -

2

Saturn
Sun
Mruta
Mars
Sagittarius-

24:22:06

Purvashadha -

4

Jupiter
Venus
Mruta
Mercury
Libra-

25:57:56

-C

Vishakha -

2

Venus
Jupiter
Mruta
Jupiter
Sagittarius-

14:57:06

Purvashadha -

1

Jupiter
Venus
Yuva
Venus
Scorpio-

18:54:19

Jyestha -

1

Mars
Mercury
Kumar
Saturn
Libra-

24:01:25

-C

Vishakha -

2

Venus
Jupiter
Mruta
Rahu
Taurus-

04:49:11

Krutika -

3

Venus
Sun
Mruta
Ketu
Scorpio-

04:49:11

Anuradha -

1

Mars
Saturn
Mruta
Harshal
Scorpio-

18:02:11

Jyestha -

1

Mars
Mercury
Kumar
Neptune
Sagittarius-

05:42:04

Mool -

2

Jupiter
Ketu
Balya
Pluto
Libra-

08:38:38

-C

Swati -

1

Venus
Rahu
Kumar
Moon Chart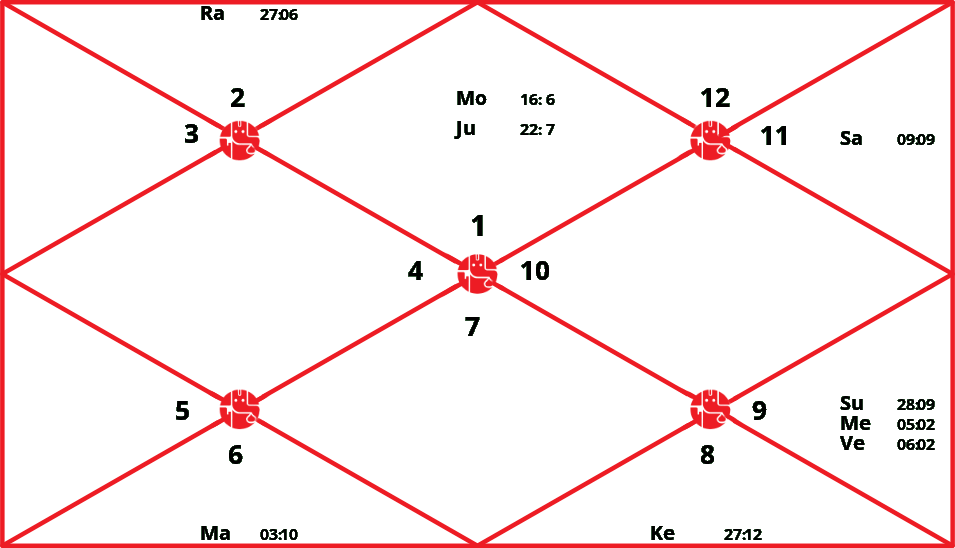 Navamsha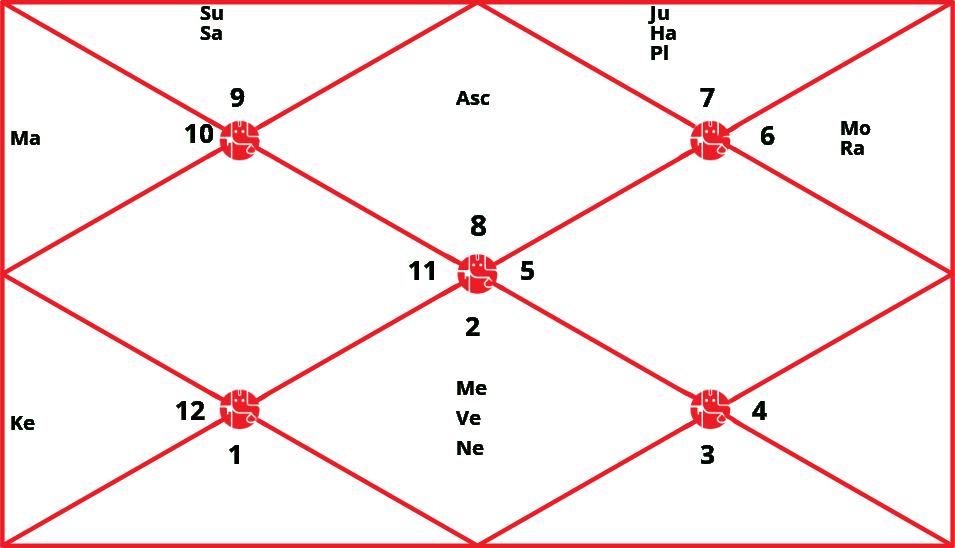 Ashtakavarga Kundli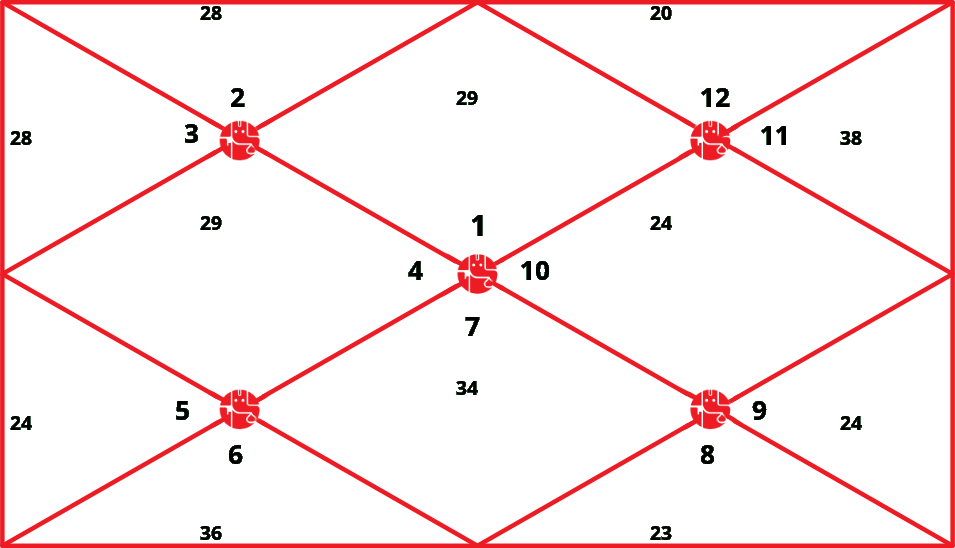 Vimshottari Mahadasha and Antardashas
| | | |
| --- | --- | --- |
| Sun | 10 May 1982 | 28 Aug 1982 |
| Moon | 28 Aug 1982 | 27 Feb 1983 |
| Mars | 27 Feb 1983 | 05 Jul 1983 |
| Rahu | 05 Jul 1983 | 28 May 1984 |
| Jupiter | 28 May 1984 | 16 Mar 1985 |
| Saturn | 16 Mar 1985 | 26 Feb 1986 |
| Mercury | 26 Feb 1986 | 02 Jan 1987 |
| Ketu | 02 Jan 1987 | 10 May 1987 |
| Venus | 10 May 1987 | 09 May 1988 |
| | | |
| --- | --- | --- |
| Moon | 09 May 1988 | 09 Mar 1989 |
| Mars | 09 Mar 1989 | 08 Oct 1989 |
| Rahu | 08 Oct 1989 | 08 Apr 1991 |
| Jupiter | 08 Apr 1991 | 06 Aug 1992 |
| Saturn | 06 Aug 1992 | 07 Mar 1994 |
| Mercury | 07 Mar 1994 | 06 Aug 1995 |
| Ketu | 06 Aug 1995 | 06 Mar 1996 |
| Venus | 06 Mar 1996 | 04 Nov 1997 |
| Sun | 04 Nov 1997 | 06 May 1998 |
| | | |
| --- | --- | --- |
| Mars | 06 May 1998 | 02 Oct 1998 |
| Rahu | 02 Oct 1998 | 20 Oct 1999 |
| Jupiter | 20 Oct 1999 | 25 Sep 2000 |
| Saturn | 25 Sep 2000 | 03 Nov 2001 |
| Mercury | 03 Nov 2001 | 31 Oct 2002 |
| Ketu | 31 Oct 2002 | 29 Mar 2003 |
| Venus | 29 Mar 2003 | 28 May 2004 |
| Sun | 28 May 2004 | 03 Oct 2004 |
| Moon | 03 Oct 2004 | 04 May 2005 |
| | | |
| --- | --- | --- |
| Rahu | 04 May 2005 | 13 Jan 2008 |
| Jupiter | 13 Jan 2008 | 06 Jun 2010 |
| Saturn | 06 Jun 2010 | 10 Apr 2013 |
| Mercury | 10 Apr 2013 | 27 Oct 2015 |
| Ketu | 27 Oct 2015 | 13 Nov 2016 |
| Venus | 13 Nov 2016 | 12 Nov 2019 |
| Sun | 12 Nov 2019 | 05 Oct 2020 |
| Moon | 05 Oct 2020 | 05 Apr 2022 |
| Mars | 05 Apr 2022 | 23 Apr 2023 |
| | | |
| --- | --- | --- |
| Jupiter | 23 Apr 2023 | 09 Jun 2025 |
| Saturn | 09 Jun 2025 | 20 Dec 2027 |
| Mercury | 20 Dec 2027 | 26 Mar 2030 |
| Ketu | 26 Mar 2030 | 02 Mar 2031 |
| Venus | 02 Mar 2031 | 29 Oct 2033 |
| Sun | 29 Oct 2033 | 17 Aug 2034 |
| Moon | 17 Aug 2034 | 16 Dec 2035 |
| Mars | 16 Dec 2035 | 21 Nov 2036 |
| Rahu | 21 Nov 2036 | 15 Apr 2039 |
| | | |
| --- | --- | --- |
| Saturn | 15 Apr 2039 | 16 Apr 2042 |
| Mercury | 16 Apr 2042 | 22 Dec 2044 |
| Ketu | 22 Dec 2044 | 30 Jan 2046 |
| Venus | 30 Jan 2046 | 30 Mar 2049 |
| Sun | 30 Mar 2049 | 12 Mar 2050 |
| Moon | 12 Mar 2050 | 11 Oct 2051 |
| Mars | 11 Oct 2051 | 18 Nov 2052 |
| Rahu | 18 Nov 2052 | 23 Sep 2055 |
| Jupiter | 23 Sep 2055 | 04 Apr 2058 |
| | | |
| --- | --- | --- |
| Mercury | 04 Apr 2058 | 29 Aug 2060 |
| Ketu | 29 Aug 2060 | 26 Aug 2061 |
| Venus | 26 Aug 2061 | 24 Jun 2064 |
| Sun | 24 Jun 2064 | 30 Apr 2065 |
| Moon | 30 Apr 2065 | 29 Sep 2066 |
| Mars | 29 Sep 2066 | 26 Sep 2067 |
| Rahu | 26 Sep 2067 | 13 Apr 2070 |
| Jupiter | 13 Apr 2070 | 18 Jul 2072 |
| Saturn | 18 Jul 2072 | 26 Mar 2075 |
| | | |
| --- | --- | --- |
| Ketu | 26 Mar 2075 | 22 Aug 2075 |
| Venus | 22 Aug 2075 | 21 Oct 2076 |
| Sun | 21 Oct 2076 | 26 Feb 2077 |
| Moon | 26 Feb 2077 | 27 Sep 2077 |
| Mars | 27 Sep 2077 | 23 Feb 2078 |
| Rahu | 23 Feb 2078 | 13 Mar 2079 |
| Jupiter | 13 Mar 2079 | 17 Feb 2080 |
| Saturn | 17 Feb 2080 | 27 Mar 2081 |
| Mercury | 27 Mar 2081 | 24 Mar 2082 |
| | | |
| --- | --- | --- |
| Venus | 24 Mar 2082 | 21 Jul 2085 |
| Sun | 21 Jul 2085 | 21 Jul 2086 |
| Moon | 21 Jul 2086 | 20 Mar 2088 |
| Mars | 20 Mar 2088 | 20 May 2089 |
| Rahu | 20 May 2089 | 18 May 2092 |
| Jupiter | 18 May 2092 | 15 Jan 2095 |
| Saturn | 15 Jan 2095 | 15 Mar 2098 |
| Mercury | 15 Mar 2098 | 12 Jan 2101 |
| Ketu | 12 Jan 2101 | 14 Mar 2102 |