INDEX

| Index | Title |
| --- | --- |
| 1 | Answer To Your Question |
| 2 | Jupiter In Your Horoscope |
| 3 | Impact Of The Transit |
| | A. Impact On Your Professional Life |
| | B. Impact On Your Personal Life |
| 4 | PERSONALIZED REMEDIES |
| 5 | Birth Details & Charts |
| | A. Birth Particulars |
| | B. Birth Chart |
| | C. Moon Chart |
| | D. Navamsha Chart |
| | E. Vimshottari Mahadasha And Antardashas Table |

YOUR QUESTION

I would like to know if I could stay safe with my current job. I may be sensitive my bosses have a plot to force me to leave. My colleagues are also not friendly.I am a civil servant and it is difficult to start procedures to fire me but I am still afraid. Would I stay away from trouble and stay thx

ANSWER TO YOUR QUESTION

Dear Devdutt, the answer to your question is the transition of Jupiter is over your ascendant and Moon. This transition of Jupiter will be over your Moon, which makes you occupied with a number of thoughts and unnecessary fears in your mind. You should try to come out of all these fears, as the big defense is the just planet Saturn is in big support and protection shield for you in every situation. Your job will be intact, and you will also have an upper hand over the competitors. On the contrary, some precautions must be needed as Rah is also transiting over your ascendant and Moon.

Take special care while dealing with superiors between 22nd May 2023 and 15th July 2023, you may not get the desired support from them. Fortunately, the just planet Saturn is a big protection shield for you to protect in every situation.

The issue of concern in your chart is which is affecting your professional growth especially is the position of Saturn is in the ascendant in debilitation this may create some obstructions in your professional life and its growth too. You must worship Lord Hanuman and Lord Vishnu for the professional growth.

INTRODUCTION

The planet of fortune, Jupiter will enter the Aries sign on April 23, 2023, Transiting Jupiter will occupy the Aries sign till May 2nd, 2024. Hence, this transit of Jupiter can have a very significant impact on various areas of your life.

JUPITER IN YOUR HOROSCOPE


Your 9th lord is Jupiter, and it is in the 6th house. This is a good position, on the one hand, it is good for a career but on the other hand, it creates challenges in your professional life to time. You will get good judgment. You will find that number of people are working under your command. On the contrary, the health of you and your father may have an issue of concern for you from time to time.

IMPACT OF THE TRANSIT


IMPACT ON YOUR PROFESSIONAL LIFE
This transition of Jupiter will have average results for you in terms of your professional life. Sometimes you may feel low and unnecessary stress. Fortunate for you in this transition of Jupiter is the transit of your 10th Lord Saturn, which is in your favor, and will give you relief too. It is a possibility that you may have to make some changes in your work style or the change in the office But with better prospects as Saturn wants to bless you now, for your good deeds. If you have any relation to your traveling, you may also expect some long professional trips.

You should not take much stress else it would affect your health and you may have to take rest for a few days from your work. Do not ignore any symptoms.
IMPACT ON YOUR PERSONAL LIFE

Personally, you must take care of your relationship and should not have any unnecessary stress or decide out of a confused state of mind. There may be differences of opinion between you and your life partner you must tackle this issue with patience and a cool temperament as this transition of Jupiter may not be supportive for you. The transit of Rahu over your Moon and the antardasha of Ketu will be starting from 22nd May and 15th July 2023 would not be good for the harmony at the family front especially. Do not forget to worship Lord Vishnu.

PERSONALIZED REMEDIAL SOLUTIONS

The Primary Solution: The Ideal Most Gemstone For You
After wearing this empowered
Ruby
, you will have strong spirit of reform with a positive and visionary outlook. This Gemstone may provide you a strong sense of identity, abundant vitality, and personal confidence. Problems in your life may be overcome by bravery, self-assertion, and directness. Your heightened mental and physical fitness will come along with sound health and absence of diseases. After wearing this gemstone, you will start getting favors and recognitions from top authorities. You feel energetic and enthusiastic, and will experience a heightened ability to overcome obstacles
Please Note: For a limited period, we are offering the beautifully designed Panchdhatu Ring, absolutely free of cost! It means, now you only have to pay for the Gemstone!
The Energization of the Gemstones
It is important to note that a gemstone is powerless unless it is energized in a correct manner. The gemstone needs to be purified and made free of all impurities, before you can wear it.
But, you need not worry about the procedure and rituals, as, we at GaneshaSpeaks.com, have developed a traditional and authentic method to cleanse, energize and attune a gemstone, specially for you! It is based on our deep research and understanding of the Vedas and the related astrological scriptures.
So, the gemstone that you order, WILL BE READY TO WEAR!
Personalized Puja for you:
Further, we also recommend you to avail our Shani-Chandra Vish Yoga Nivarana Puja Service which is very essential to remove the malefic effects of this Dosha.
Introduction
The Moon is a fast-moving planet and is the indicator of our mind and mental health. On the other hand, Saturn happens to be the slowest amongst the planets and denotes suffering and obstacles. Thus, the combination of the Moon and Saturn results into the 'Chandra-Shani Vish Yoga', which acts like a poisonous influence in your life. Your mental receptivity, grasping speed and mental peace get affected and various areas of life get affected due to this. Misunderstandings and mental agony are two of the most prominent features of this combination. There are also chances of your general well-being and progress getting blocked by this unfavourable combination.
How it works ?
Shani Chandra Vish Dosh Nivaran Puja includes the Puja of Kalash and the other five important deities, namely, Ganesh, Shiva, Matruka, Navagraha, and Pradhan-Devta. Puja involves chanting/reciting Shani (23000 times) and Moon (11000 times) Bija Mantra. Then, ""HOMA"" (Havan) ritual is performed wherein, Ghee, Seasam, Barley, and other sacred material related to Lord Saturn and Moon will be offered to Agni while reciting 2300 Mantras of Saturn and 1700 Mantra of Chandra. Yagya / Homa is a significant remedy to remove the evil effect of Vish Yoga in your chart. To get maximum positive results, Puja will be performed on the nearest best Muhurat i.e in a Nakshatra of Moon or Monday. To complete the Puja during the Muhurta, GaneshaSpeaks will appoint a team of 4 priests led by an Aacharya who are masters of the Vedic rituals. The Saturn - Moon Vish Yoga Nivaran Puja is the most effective Vedic way to nullify the evil effects of the Dosha.
Link :-
Click Here
Benefits of this Pooja
- Remove the negative influence of Vish Yoga
- Get protection against negative and depressive thinking
- Move forward with a positive and optimistic approach
- Bring stability in career and business
- Overcome issues of property and wealth
- Attain peace and harmony in relationship & marriage life
Our Solution Experts can help you in clearing your doubts or concerns related to predictions or remedies. To contact us on Email, click here.
With Ganesha's Grace,
Your Personal Astrologer
The GaneshaSpeaks.com Team
Birth Particulars

Gender

Male

Latitude

22N33

Birth Date

01 Jan 2012

Longitude

113E59

Birth Day

Saturday

Lagna

Aries-12:8:12

Birth Time

18:00 hrs

Aynamsh

23:25:57

Birth Place

Shenzhen

Moon Sign

Aries

Country

China

Birth Nakshatra

Ashwini

Timezone

0800 hrs

Nakshatra Pada

3
Avakhada Chakra (Your Birth Panchang)
Description: The table shown here contains various astrological terms which are obtained from your own Moon's position. Hence, this table is very useful in Vedic Astrology as it shows your own personalized information. This helps the native to determine the compatibility with others.

Birth Yog

Vajra

Birth Vasya

Chatushpad

Birth Karan

Balav

Birth Yoni

Ashwa

Birth Varga

Simha

Birth Gana

Dev

Birth Varna

Kshatriya

Birth Yunja

Purva

Birth Tatva

Agni

Birth Nadi

Adhya
Ghaat Chakra
Description: As the name suggests, Ghaat literally means negative or inauspicious. This table shows your personalized negative phenomenon of Panchang in which you should take extra care and precaution. Plus, the suggested day, tithi, month, nakshatra etc... should also be avoided to initiate any new or auspicious work.

Month

Kartik

Tithi

Krishnapratipada

Day

Sunday

Nakshatra

Magha

Yog

Vishkumbh

Karan

Bav

Prahar

First

MaleMoon

Aries

FemaleMoon

Aries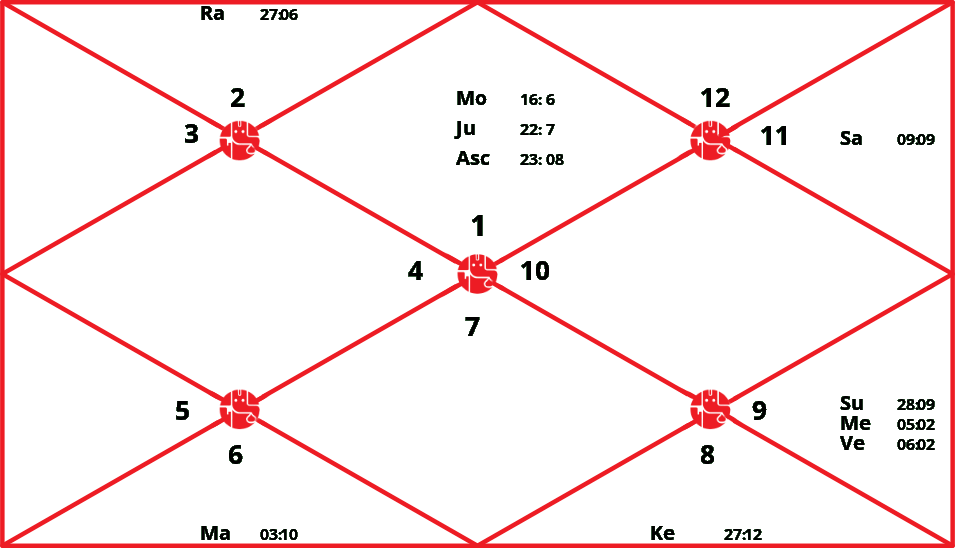 Grah
Rashi-Ansh
Nakshatra-Pad
Ra Swa
Na Swa
Awastha
Lagna
Aries-

12:8:12

Ashwini -

4

Mars
Ketu
Yuva
Sun
Libra-

08:23:03

Swati -

1

Venus
Rahu
Kumar
Moon
Aries-

08:59:28

Ashwini -

3

Mars
Ketu
Kumar
Mars
Sagittarius-

29:12:33

Uttarashadha -

1

Jupiter
Sun
Mruta
Mercury
Virgo-

24:33:28

-C

Chitra -

1

Mercury
Mars
Balya
Jupiter
Virgo-

26:20:28

Chitra -

1

Mercury
Mars
Balya
Venus
Virgo-

16:15:53

Hast -

2

Mercury
Moon
Yuva
Saturn
Aries-

12:19:23

Ashwini -

4

Mars
Ketu
Yuva
Rahu
Aquarius-

25:25:18

Purvabhadrapad -

2

Saturn
Jupiter
Mruta
Ketu
Leo-

25:25:18

Purvafalguni -

4

Sun
Venus
Mruta
Harshal
Virgo-

12:40:43

Hast -

1

Mercury
Moon
Yuva
Neptune
Scorpio-

04:01:53

Anuradha -

1

Mars
Saturn
Mruta
Pluto
Virgo-

02:48:53

Uttarafalguni -

2

Mercury
Sun
Mruta
Moon Chart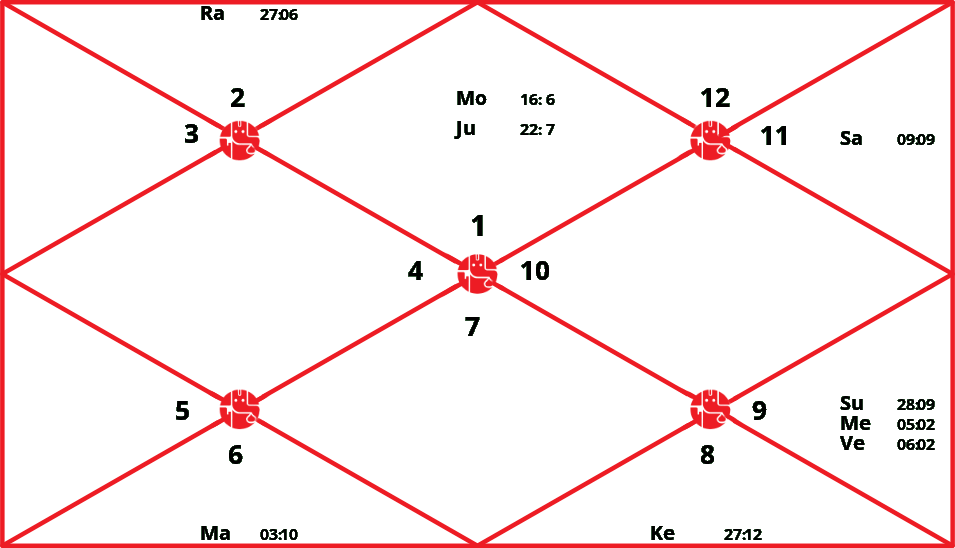 Navamsha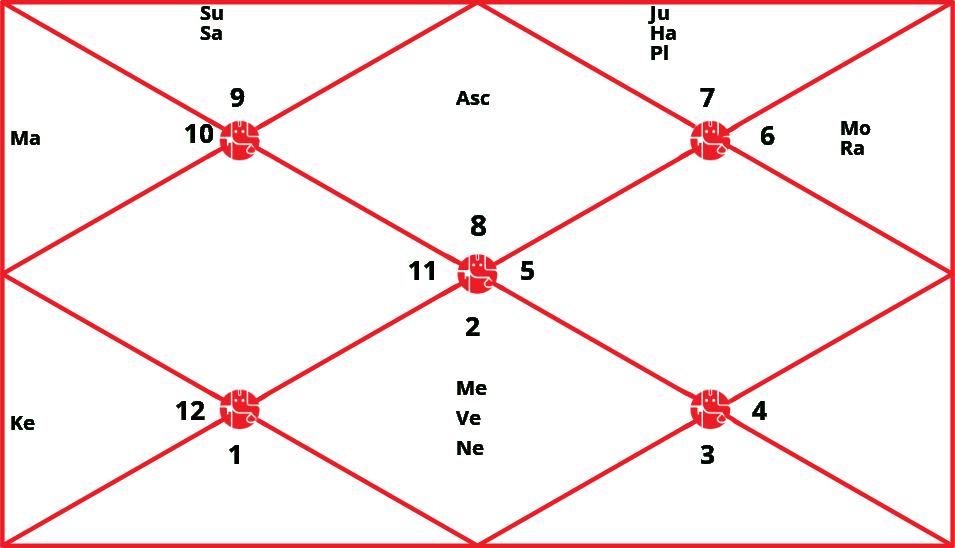 Ashtakavarga Kundli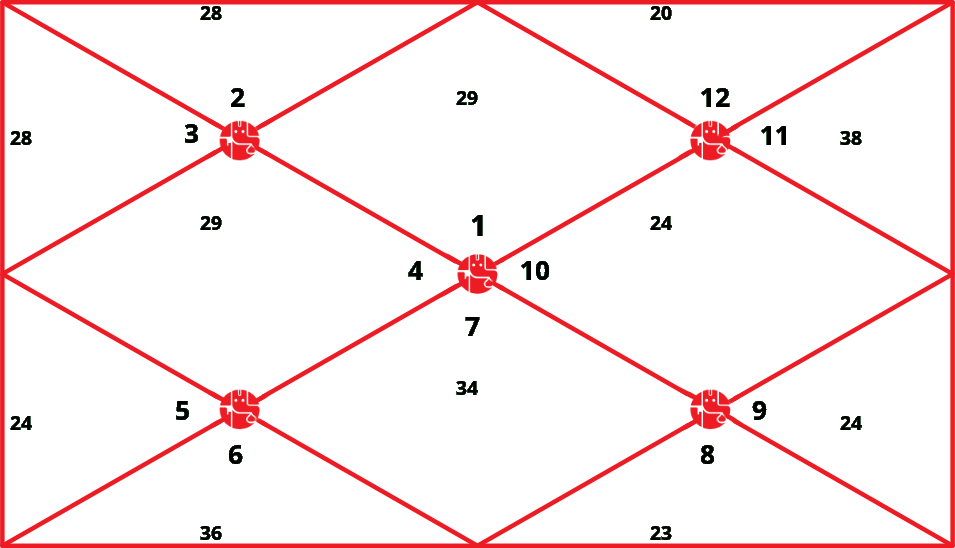 Vimshottari Mahadasha and Antardashas
| | | |
| --- | --- | --- |
| Ketu | 09 Feb 1965 | 08 Jul 1965 |
| Venus | 08 Jul 1965 | 07 Sep 1966 |
| Sun | 07 Sep 1966 | 13 Jan 1967 |
| Moon | 13 Jan 1967 | 14 Aug 1967 |
| Mars | 14 Aug 1967 | 10 Jan 1968 |
| Rahu | 10 Jan 1968 | 27 Jan 1969 |
| Jupiter | 27 Jan 1969 | 03 Jan 1970 |
| Saturn | 03 Jan 1970 | 11 Feb 1971 |
| Mercury | 11 Feb 1971 | 08 Feb 1972 |
| | | |
| --- | --- | --- |
| Venus | 08 Feb 1972 | 07 Jun 1975 |
| Sun | 07 Jun 1975 | 06 Jun 1976 |
| Moon | 06 Jun 1976 | 04 Feb 1978 |
| Mars | 04 Feb 1978 | 06 Apr 1979 |
| Rahu | 06 Apr 1979 | 04 Apr 1982 |
| Jupiter | 04 Apr 1982 | 01 Dec 1984 |
| Saturn | 01 Dec 1984 | 30 Jan 1988 |
| Mercury | 30 Jan 1988 | 28 Nov 1990 |
| Ketu | 28 Nov 1990 | 28 Jan 1992 |
| | | |
| --- | --- | --- |
| Sun | 28 Jan 1992 | 17 May 1992 |
| Moon | 17 May 1992 | 16 Nov 1992 |
| Mars | 16 Nov 1992 | 24 Mar 1993 |
| Rahu | 24 Mar 1993 | 15 Feb 1994 |
| Jupiter | 15 Feb 1994 | 04 Dec 1994 |
| Saturn | 04 Dec 1994 | 16 Nov 1995 |
| Mercury | 16 Nov 1995 | 21 Sep 1996 |
| Ketu | 21 Sep 1996 | 27 Jan 1997 |
| Venus | 27 Jan 1997 | 27 Jan 1998 |
| | | |
| --- | --- | --- |
| Moon | 27 Jan 1998 | 27 Nov 1998 |
| Mars | 27 Nov 1998 | 28 Jun 1999 |
| Rahu | 28 Jun 1999 | 26 Dec 2000 |
| Jupiter | 26 Dec 2000 | 26 Apr 2002 |
| Saturn | 26 Apr 2002 | 25 Nov 2003 |
| Mercury | 25 Nov 2003 | 25 Apr 2005 |
| Ketu | 25 Apr 2005 | 24 Nov 2005 |
| Venus | 24 Nov 2005 | 25 Jul 2007 |
| Sun | 25 Jul 2007 | 24 Jan 2008 |
| | | |
| --- | --- | --- |
| Mars | 24 Jan 2008 | 21 Jun 2008 |
| Rahu | 21 Jun 2008 | 09 Jul 2009 |
| Jupiter | 09 Jul 2009 | 15 Jun 2010 |
| Saturn | 15 Jun 2010 | 24 Jul 2011 |
| Mercury | 24 Jul 2011 | 20 Jul 2012 |
| Ketu | 20 Jul 2012 | 16 Dec 2012 |
| Venus | 16 Dec 2012 | 15 Feb 2014 |
| Sun | 15 Feb 2014 | 23 Jun 2014 |
| Moon | 23 Jun 2014 | 22 Jan 2015 |
| | | |
| --- | --- | --- |
| Rahu | 22 Jan 2015 | 02 Oct 2017 |
| Jupiter | 02 Oct 2017 | 24 Feb 2020 |
| Saturn | 24 Feb 2020 | 29 Dec 2022 |
| Mercury | 29 Dec 2022 | 16 Jul 2025 |
| Ketu | 16 Jul 2025 | 03 Aug 2026 |
| Venus | 03 Aug 2026 | 01 Aug 2029 |
| Sun | 01 Aug 2029 | 25 Jun 2030 |
| Moon | 25 Jun 2030 | 24 Dec 2031 |
| Mars | 24 Dec 2031 | 10 Jan 2033 |
| | | |
| --- | --- | --- |
| Jupiter | 10 Jan 2033 | 27 Feb 2035 |
| Saturn | 27 Feb 2035 | 08 Sep 2037 |
| Mercury | 08 Sep 2037 | 14 Dec 2039 |
| Ketu | 14 Dec 2039 | 19 Nov 2040 |
| Venus | 19 Nov 2040 | 19 Jul 2043 |
| Sun | 19 Jul 2043 | 06 May 2044 |
| Moon | 06 May 2044 | 04 Sep 2045 |
| Mars | 04 Sep 2045 | 11 Aug 2046 |
| Rahu | 11 Aug 2046 | 02 Jan 2049 |
| | | |
| --- | --- | --- |
| Saturn | 02 Jan 2049 | 04 Jan 2052 |
| Mercury | 04 Jan 2052 | 11 Sep 2054 |
| Ketu | 11 Sep 2054 | 20 Oct 2055 |
| Venus | 20 Oct 2055 | 18 Dec 2058 |
| Sun | 18 Dec 2058 | 30 Nov 2059 |
| Moon | 30 Nov 2059 | 30 Jun 2061 |
| Mars | 30 Jun 2061 | 08 Aug 2062 |
| Rahu | 08 Aug 2062 | 12 Jun 2065 |
| Jupiter | 12 Jun 2065 | 23 Dec 2067 |
| | | |
| --- | --- | --- |
| Mercury | 23 Dec 2067 | 19 May 2070 |
| Ketu | 19 May 2070 | 16 May 2071 |
| Venus | 16 May 2071 | 14 Mar 2074 |
| Sun | 14 Mar 2074 | 18 Jan 2075 |
| Moon | 18 Jan 2075 | 18 Jun 2076 |
| Mars | 18 Jun 2076 | 15 Jun 2077 |
| Rahu | 15 Jun 2077 | 01 Jan 2080 |
| Jupiter | 01 Jan 2080 | 07 Apr 2082 |
| Saturn | 07 Apr 2082 | 13 Dec 2084 |