Saturn Transit - Sade Sati Report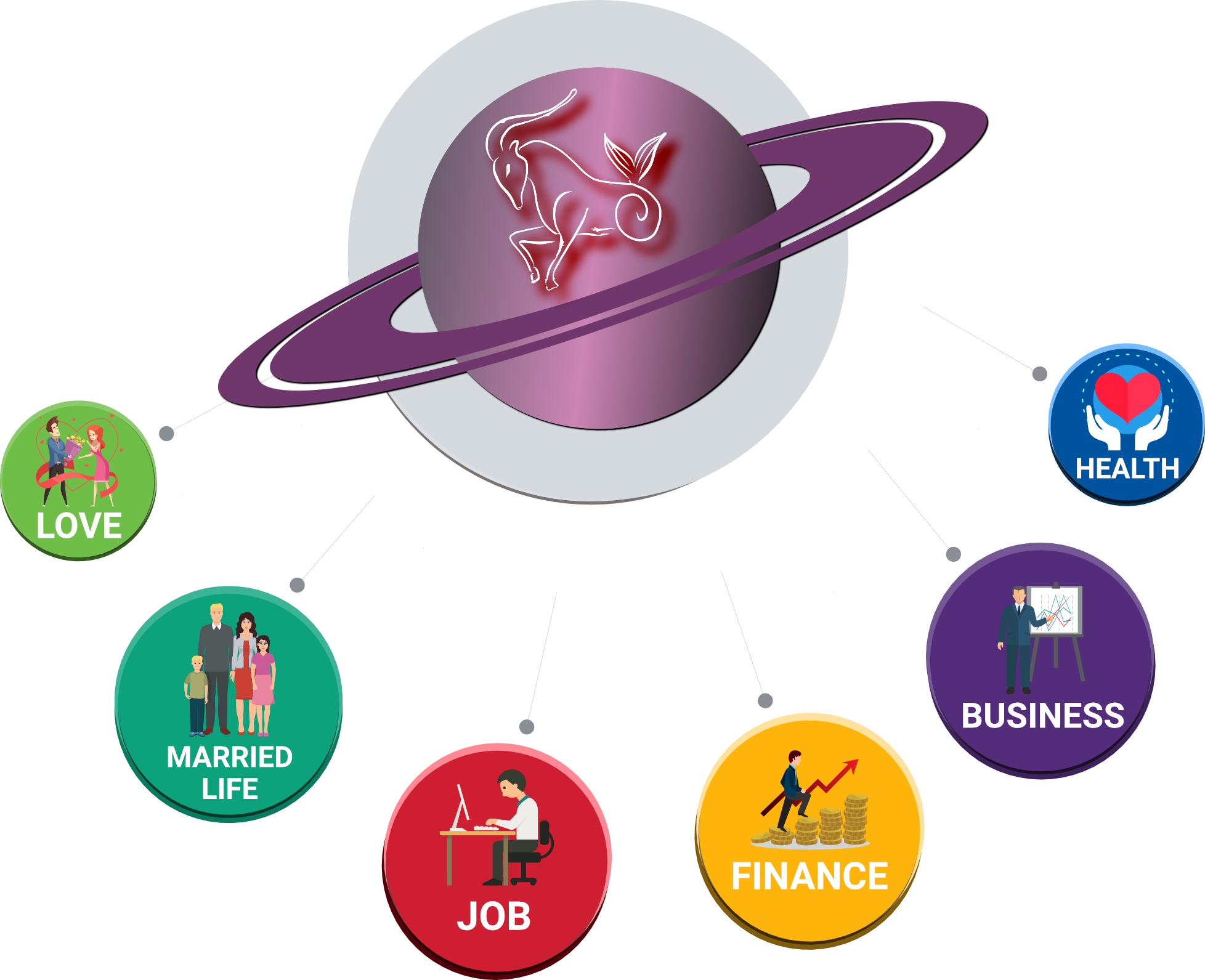 Devdutt
2012-01-01 14:51
Singapore Roads,Central Region,Central Region,Singapore Answer To Your Question
Dear Devdutt, the direct answer to your question is, from professional point of view, it may bring a slight change in your position. If you want to change your job, this transition of Saturn will give you the chance to make the change in your job and the position too as it will be the time of small Panoti and it always brings the change in the position. Fortunate for you, the Dasha of your 10th lord is in operation, the lord of house of professional growth and it is a positive to elevate you in your career after 14th July 2023, when the Dasha of Saturn will also be in operation along with its transit to elevate you and your position both. So, need not take any stress rather you should be thankful to Lord Saturn. As a precaution you must be cooperative with your subordinates and try to help the poor and needy people as and when possible, for you. Saturn In Your Birth Chart
Saturn is the Lord of 4th house and 5th house in your chart, and it is placed in the 11th house in Leo sign. This suggests that you will have happiness on the domestic front. You will be interested in learning, and you would be successful on the academic front. You would earn through learning. You would own land and property. You will have an attachment towards your mother and your family. You may get wealth and benefits from mother, profit through real estate, leisure and happy and fortunate life. You have a supportive and friendly attitude. You would mostly get what you want or desire for. The Lord of 5th house Saturn suggests that you will be successful on the academic front. Your immune system will be strong. You could be successful in the consulting business. You will have happiness from your children. It denotes profits from your children, an extensive network of influential friends, great wealth, plentiful opportunities, success in all undertakings, fulfilled desires. You would also benefit from your eldest sibling. Long term and strategic investments may bring high rewards. Saturn in Leo sign indicates that you are a person who is practical in your approach, have high levels of self-discipline and inner strength, which makes you a very strong and attractive personality. You are a person with a strong willpower and determination. The level of discipline that you have will enable you to achieve your goals sooner. Though you are very sympathetic in nature, your level of empathy might be quiet low as you will experience a lot of difficulties when it comes to an understanding of other people's ambitions, dreams and goals. One most important thing that you have to learn this year is tolerance. Well speaking about the negative aspects, you can be opinionated, vindictive, cold and uncaring with a tendency to get quite aggravated if your plans are met with opposition. Sometimes you just have to learn to work in a group. The opposition is something that happens naturally while working with people, and sometimes it can be healthy. This 'shouldn't make you get hyper and aggressive.
Description On Saturn's 1st Phase Of Sade Sati

" We are glad to inform you that you are currently not going through the Sade Sati and your Sade Sati will commence on 30th May 2032 and will end on 12th July 2039. Saturn's Transit Through Aquarius

Saturn in 5th House

Due to the transit of Saturn through the 5th House, you would ideally focus on your love life and possibly your children, if any. This is an ideal period for you to affirm your romantic relationships. You may enter a relationship with someone with a substantial age difference, ideally someone older. If you have children, you may face differences with them, which you have to deal with. In case you do not have children yet, this could be the period you become a parent. The 5th House is also related to speculation and gambling; with the transiting Saturn, Ganesha recommends you avoid gambling of any sort during this period.
Saturn's Aspects
Saturn's aspect on 7th house

For your ascendant, Saturn is considered as a functional benefic because of its 5th house Lordship. 7th house deals with partner and conjugal life. You may have romantic time with the life partner; however, it will be in phases only. There may be periods of unrest and difference of opinion also, but you will be able to sort out the differences by your logical understanding. Matured behavior would be expected from both sides for a relation to grow and prosper. Spending time with each other and taking short breaks would be essential for you to come close and maintain mutual love between couple.

Saturn's aspect on 11th house

11th house deals with house of gains. Finance will be your buzzword in this period. You shall continue to look for greener pastures, finding satisfying means to generate more revenue. If you are a professional, you may look for more lucrative career options. However, you may have to spend money on maintaining vehicles or carrying out renovations at home. This is also a good time to invest discreetly. You shall shuffle money across your accounts, transfer sums and what not in the inevitable pursuit of multiplying it. Some people especially professionals may get increment in remuneration which give them financial facelift.

Saturn's aspect on 2nd house

2nd house is considered as house of finance and income. For financial progress and for receiving honors, the position is favourable. You will become righteous and will become victorious in case of conflicts. You will have much better scope and opportunities vis-à-vis finance. You should minimize lending or borrowing and also avoid speculative investments; these will help you to fulfill your financial commitments. Saturn's aspect demands strict discipline with monetary matter and orthodox approach therefore do not do anything uncanny or outlandish which can upset the applecart. You may have gains from trading activities. Accumulated savings may enhance to some extent. Impact Of The Transit
The transition of Saturn after 18th July 2023 would bring the positive change in your professional sector. Saturn is 11th in your natal chart and it is aspecting its own house, and in transit too, it is 5th from ascendant is another good position, despite its Panoti. There may be increase number of competitors and their activities too between 6th May and 18th July 2023 and between 4th September and 30th November 2023. This may create some stress and emotional issue too. Despite these issues of Saturn's small panoti the dasha and the transit of Jupiter will support you. You may think to change your workplace or residence as mentioned above.

This transition will bring the change in your financial position. You must keep in mind of avoiding the speculative investments. In your chart, the conjunction of Moon and Mars is in the 10th house, is creating the Chandra-Mangal yoga, this instigates a person to make speculative and risky investments, this may create some financial losses also, if the check is not there on the investments. The issue of concern regarding your finances the below average strength of your 11th lord Sun, although it is in the 2nd house creating the Dhan yoga, but always affects your savings. So, you must worship Lord Sun by reciting Gayatri mantra to improve your financial position not only in this transition but throughout your life. Personal life may demand your attention, and you must be polite with your life partner throughout this transition. As Saturn has the aspect on the 7th house and apart from it Rahu is transiting in the 7th house till October 2023, may affect the harmony in the relationship. The irritation in your behavior may affect your relationship in this transition. Do not mingle professional and personal life, it must be dealt separately. The health of your spouse may also demand some attention till 30th October 2023. This is the time of testing the relationship and proving yourself to be a caring person for your family members. You must avail this chance to prove yourself as loving and caring person either with your spouse or for your family members. Apart from Saturn's aspect over 7th house, the transit of Ketu over your ascendant makes you reactive occasionally, this may affect your close relationship. Special check is needed towards your personal life will be till October 2023 and between 7th January 2024 and 10th February 2024. Practical Tip

If possible, you should start recitation of Gayatri mantra 7 times a day and 11 times on Sunday.

You should also help the poor and needy people to get the blessing of Lord Saturn, whenever and however possible for you on Saturdays. PERSONALIZED REMEDIES
The Primary Solution: The Ideal Most Gemstone For You
After wearing this empowered
Emerald
gemstone, you are likely to remain involved in gaining knowledge and mental development for many years. As it is your functional benefic planet, your wealth will also increase and you will also accomplish your undertakings successfully and on time. It may also increase the material comforts and pleasures in your life. Overall, this may provide ease of working and general good fortune to you. Most positive side of wearing this gemstone is, you would not run short of money and will also have substantial financial gains at regular interval.
Please Note: For a limited period, we are offering the beautifully designed Panchdhatu Ring, absolutely free of cost! It means, now you only have to pay for the Gemstone!
The Energization of the Gemstones
It is important to note that a gemstone is powerless unless it is energized in a correct manner. The gemstone needs to be purified and made free of all impurities, before you can wear it.
But, you need not worry about the procedure and rituals, as, we at GaneshaSpeaks.com, have developed a traditional and authentic method to cleanse, energize and attune a gemstone, specially for you! It is based on our deep research and understanding of the Vedas and the related astrological scriptures.
So, the gemstone that you order, WILL BE READY TO WEAR!
Personalized Puja For You:
Further, we also recommend you to avail our Surya Puja Service which is very essential to boost the strength of planet Sun.
Introduction
The Sun, the giver of life, represents our conscious mind in Astrology. It represents our will to live and our creative life force. The Sun is our basic identity, and represents self-realization. When you are asked, ""Who are you?"", and you've passed your basic statistics and occupation, your answers will be a description of your Sun. Just as the planets revolve around the Sun in our solar system, we derive our life purpose from the Sun in our natal charts. The Sun also represents our overall vitality. The Sun directs us, and can be considered ""the boss"" of our chart.
How it works ?
Surya Puja is performed with Shodashopachara steps along with reciting traditional Surya Mantra 7000 times. Puja also involves the ""HOMA"" (Havan) ritual wherein, ghee, sesame, barley, and other sacred material related to Lord Sun will be offered to Agni while reciting 700 Surya Mantras. Yagya is a significant remedy to remove the evil effect of the planets in our chart. To get maximum positive results, Puja will be performed on the nearest best Muhurat i.e Sunday or on day of ""Surya Nakshatra"". In order to complete the Puja during the auspicious Muhurta, GaneshaSpeaks will appoint a team of 5 priests led by an Aacharya who are masters of the Vedic rituals.
Link :-
Click Here
Benefits of this Pooja
- Remove obstacles from career growth
- Remove negative vibes around you and ward off the effect of evil spirits and ghost shadows
- Boost your self-confidence and improve your public image
- Enhances positive effect of Sun in your Chart
- Get protection from enemies
- Ensure relief from sorrows & bondage
- Improvise relationship with father and help in solving inherited property issues
- Gain health, wealth and prosperity in life
Our Solution Experts Can Help You In Clearing Your Doubts Or Concerns Related To Predictions Or Remedies. To Contact Us On Email, Click Here. Birth Particulars

Gender

Male

Latitude

1N16

Birth Date

01 Jan 2012

Longitude

103E54

Birth Day

Friday

Lagna

Libra-20:33:19

Birth Time

05:10 hrs

Aynamsh

23:32:43

Birth Place

Singapore Roads

Moon Sign

Cancer

Country

Singapore

Birth Nakshatra

Aashlesha

Timezone

0800 hrs

Nakshatra Pada

2
Avakhada Chakra (Your Birth Panchang)
Description: The table shown here contains various astrological terms which are obtained from your own Moon's position. Hence, this table is very useful in Vedic Astrology as it shows your own personalized information. This helps the native to determine the compatibility with others.

Birth Yog

Endra

Birth Vasya

Jalchar

Birth Karan

Vanij

Birth Yoni

Manjar

Birth Varga

Swan

Birth Gana

Rakshas

Birth Varna

Brahmin

Birth Yunja

Madhya

Birth Tatva

Vari

Birth Nadi

Antya
Ghaat Chakra
Description: As the name suggests, Ghaat literally means negative or inauspicious. This table shows your personalized negative phenomenon of Panchang in which you should take extra care and precaution. Plus, the suggested day, tithi, month, nakshatra etc... should also be avoided to initiate any new or auspicious work.

Month

Posha

Tithi

Krishnashashti

Day

Wednesday

Nakshatra

Anuradha

Yog

Vyaghaat

Karan

Naag

Prahar

First

MaleMoon

Leo

FemaleMoon

Pisces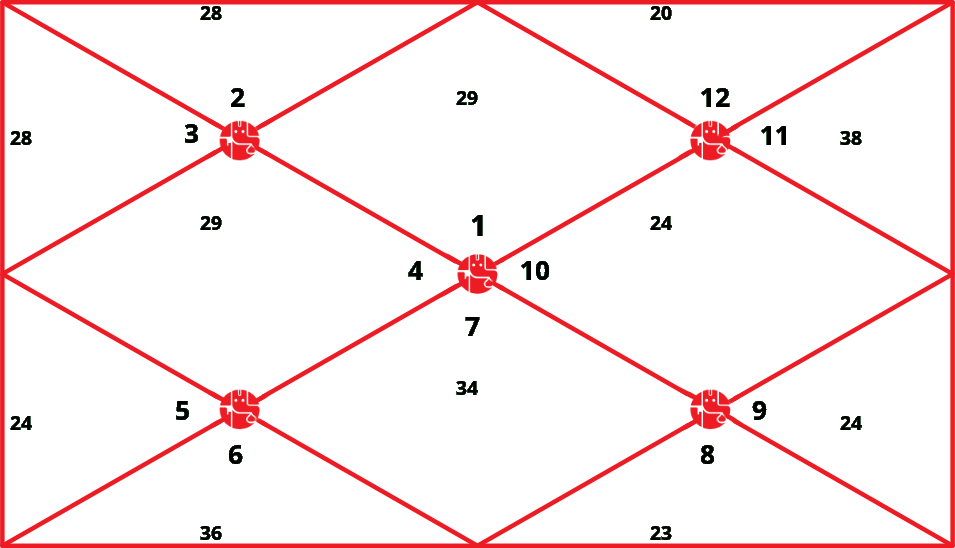 Grah
Rashi-Ansh
Nakshatra-Pad
Ra Swa
Na Swa
Awastha
Lagna
Libra-

20:33:19

Vishakha -

1

Venus
Jupiter
Vruddha
Sun
Scorpio-

16:02:04

Anuradha -

4

Mars
Saturn
Yuva
Moon
Cancer-

23:11:27

Aashlesha -

2

Moon
Mercury
Kumar
Mars
Cancer-

17:15:20

Aashlesha -

1

Moon
Mercury
Yuva
Mercury
Sagittarius-

07:07:22

Mool -

3

Jupiter
Ketu
Kumar
Jupiter
Gemini-

10:14:59

Aadra -

2

Mercury
Rahu
Kumar
Venus
Scorpio-

03:41:25

Anuradha -

1

Mars
Saturn
Mruta
Saturn
Leo-

06:55:09

Magha -

3

Sun
Ketu
Kumar
Rahu
Virgo-

18:38:55

Hast -

3

Mercury
Moon
Kumar
Ketu
Pisces-

18:38:55

Revati -

1

Jupiter
Mercury
Kumar
Harshal
Libra-

20:13:48

Vishakha -

1

Venus
Jupiter
Vruddha
Neptune
Scorpio-

22:05:02

-C

Jyestha -

2

Mars
Mercury
Kumar
Pluto
Virgo-

22:29:02

Hast -

4

Mercury
Moon
Kumar
Moon Chart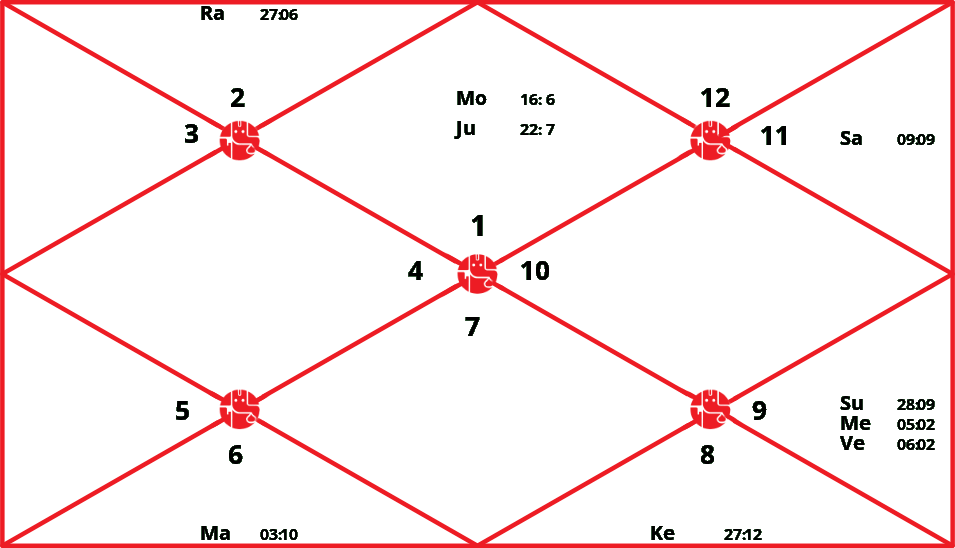 Navamsha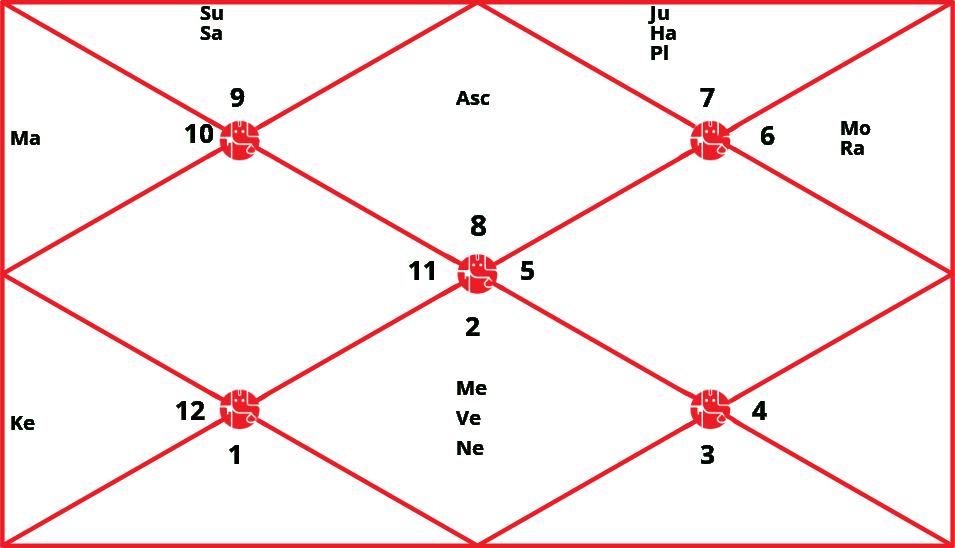 Ashtakavarga Kundli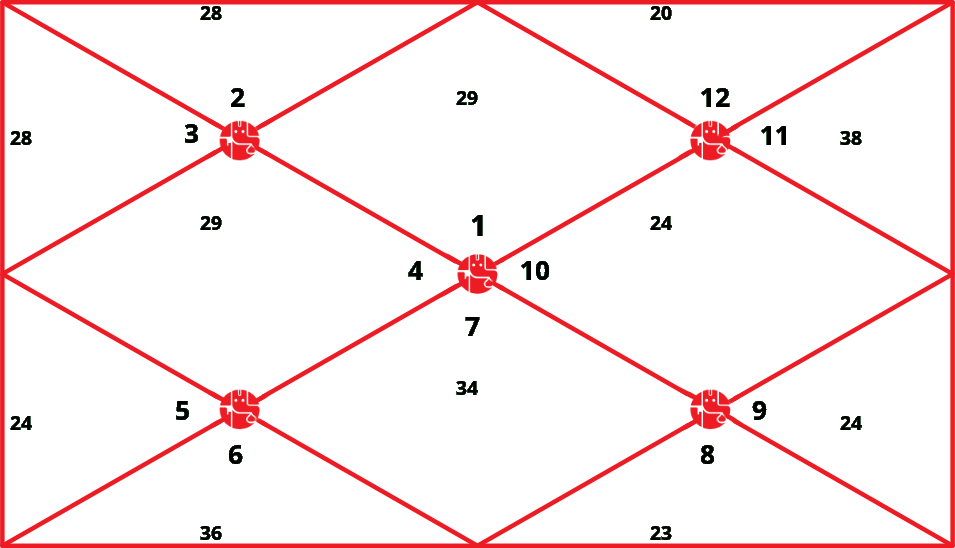 Vimshottari Mahadasha and Antardashas
| | | |
| --- | --- | --- |
| Mercury | 16 Aug 1969 | 11 Jan 1972 |
| Ketu | 11 Jan 1972 | 07 Jan 1973 |
| Venus | 07 Jan 1973 | 06 Nov 1975 |
| Sun | 06 Nov 1975 | 11 Sep 1976 |
| Moon | 11 Sep 1976 | 10 Feb 1978 |
| Mars | 10 Feb 1978 | 07 Feb 1979 |
| Rahu | 07 Feb 1979 | 25 Aug 1981 |
| Jupiter | 25 Aug 1981 | 30 Nov 1983 |
| Saturn | 30 Nov 1983 | 07 Aug 1986 |
| | | |
| --- | --- | --- |
| Ketu | 07 Aug 1986 | 03 Jan 1987 |
| Venus | 03 Jan 1987 | 04 Mar 1988 |
| Sun | 04 Mar 1988 | 10 Jul 1988 |
| Moon | 10 Jul 1988 | 08 Feb 1989 |
| Mars | 08 Feb 1989 | 07 Jul 1989 |
| Rahu | 07 Jul 1989 | 25 Jul 1990 |
| Jupiter | 25 Jul 1990 | 01 Jul 1991 |
| Saturn | 01 Jul 1991 | 08 Aug 1992 |
| Mercury | 08 Aug 1992 | 05 Aug 1993 |
| | | |
| --- | --- | --- |
| Venus | 05 Aug 1993 | 02 Dec 1996 |
| Sun | 02 Dec 1996 | 02 Dec 1997 |
| Moon | 02 Dec 1997 | 02 Aug 1999 |
| Mars | 02 Aug 1999 | 01 Oct 2000 |
| Rahu | 01 Oct 2000 | 30 Sep 2003 |
| Jupiter | 30 Sep 2003 | 29 May 2006 |
| Saturn | 29 May 2006 | 27 Jul 2009 |
| Mercury | 27 Jul 2009 | 25 May 2012 |
| Ketu | 25 May 2012 | 25 Jul 2013 |
| | | |
| --- | --- | --- |
| Sun | 25 Jul 2013 | 12 Nov 2013 |
| Moon | 12 Nov 2013 | 14 May 2014 |
| Mars | 14 May 2014 | 19 Sep 2014 |
| Rahu | 19 Sep 2014 | 13 Aug 2015 |
| Jupiter | 13 Aug 2015 | 31 May 2016 |
| Saturn | 31 May 2016 | 13 May 2017 |
| Mercury | 13 May 2017 | 19 Mar 2018 |
| Ketu | 19 Mar 2018 | 25 Jul 2018 |
| Venus | 25 Jul 2018 | 25 Jul 2019 |
| | | |
| --- | --- | --- |
| Moon | 25 Jul 2019 | 24 May 2020 |
| Mars | 24 May 2020 | 23 Dec 2020 |
| Rahu | 23 Dec 2020 | 23 Jun 2022 |
| Jupiter | 23 Jun 2022 | 22 Oct 2023 |
| Saturn | 22 Oct 2023 | 22 May 2025 |
| Mercury | 22 May 2025 | 21 Oct 2026 |
| Ketu | 21 Oct 2026 | 22 May 2027 |
| Venus | 22 May 2027 | 19 Jan 2029 |
| Sun | 19 Jan 2029 | 21 Jul 2029 |
| | | |
| --- | --- | --- |
| Mars | 21 Jul 2029 | 17 Dec 2029 |
| Rahu | 17 Dec 2029 | 04 Jan 2031 |
| Jupiter | 04 Jan 2031 | 11 Dec 2031 |
| Saturn | 11 Dec 2031 | 18 Jan 2033 |
| Mercury | 18 Jan 2033 | 15 Jan 2034 |
| Ketu | 15 Jan 2034 | 13 Jun 2034 |
| Venus | 13 Jun 2034 | 13 Aug 2035 |
| Sun | 13 Aug 2035 | 19 Dec 2035 |
| Moon | 19 Dec 2035 | 19 Jul 2036 |
| | | |
| --- | --- | --- |
| Rahu | 19 Jul 2036 | 30 Mar 2039 |
| Jupiter | 30 Mar 2039 | 21 Aug 2041 |
| Saturn | 21 Aug 2041 | 25 Jun 2044 |
| Mercury | 25 Jun 2044 | 11 Jan 2047 |
| Ketu | 11 Jan 2047 | 29 Jan 2048 |
| Venus | 29 Jan 2048 | 27 Jan 2051 |
| Sun | 27 Jan 2051 | 21 Dec 2051 |
| Moon | 21 Dec 2051 | 20 Jun 2053 |
| Mars | 20 Jun 2053 | 08 Jul 2054 |
| | | |
| --- | --- | --- |
| Jupiter | 08 Jul 2054 | 24 Aug 2056 |
| Saturn | 24 Aug 2056 | 06 Mar 2059 |
| Mercury | 06 Mar 2059 | 10 Jun 2061 |
| Ketu | 10 Jun 2061 | 17 May 2062 |
| Venus | 17 May 2062 | 13 Jan 2065 |
| Sun | 13 Jan 2065 | 01 Nov 2065 |
| Moon | 01 Nov 2065 | 02 Mar 2067 |
| Mars | 02 Mar 2067 | 06 Feb 2068 |
| Rahu | 06 Feb 2068 | 30 Jun 2070 |
| | | |
| --- | --- | --- |
| Saturn | 30 Jun 2070 | 01 Jul 2073 |
| Mercury | 01 Jul 2073 | 08 Mar 2076 |
| Ketu | 08 Mar 2076 | 16 Apr 2077 |
| Venus | 16 Apr 2077 | 14 Jun 2080 |
| Sun | 14 Jun 2080 | 27 May 2081 |
| Moon | 27 May 2081 | 26 Dec 2082 |
| Mars | 26 Dec 2082 | 03 Feb 2084 |
| Rahu | 03 Feb 2084 | 08 Dec 2086 |
| Jupiter | 08 Dec 2086 | 19 Jun 2089 |
With Ganesha's Grace,
The GaneshaSpeaks.com Team