Ghat Chakra - Free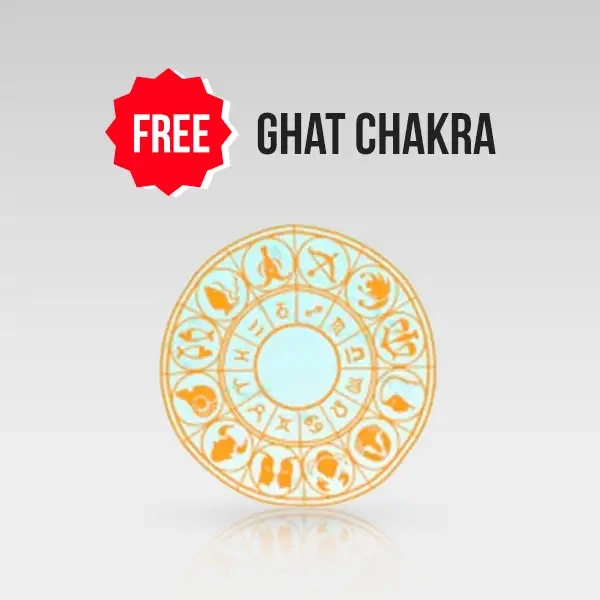 Ghat Chakra is all about inauspicious timings. There are certain days, tithi's, nakshatra, etc elements of panchang that are not good for your zodiac sign, all these come under Ghat Chakra. While starting any important task, going on a journey or while deciding the best muhurat for marriage, you should always check Ghat Chakra to avoid misfortune.
Share Your Details to Create Your Ghat Chakra - Free
Your personalised Ghat Chakra Report will let you know the inauspicious timings that you must keep in mind before starting new work, making big decisions or going on a journey. Your Free Ghat Chakra report informs you about the inauspicious timings that you should avoid.
The report includes:
Ghataka Chandra – The moon transiting in an unfavourable zodiac sign indicating Ghataka or danger
Ghataka Day, Month, & Tithi – The unfavourable lunar day or tithi, month indicating danger
Ghataka Nakshatra –The inauspicious nakshatra
Ghataka Yog & Prahar – Unlucky yog & prahar for you
So, while planning any auspicious event, check your Free Personalised Ghat Chakra Report!
Why should you Choose GaneshaSpeaks ?
Accurate
Time saving
Easy Accessibility
Absolutely Free
A Ghat Chakra report is a report that provides predictions and insights into the timing of events in a person's life, based on their birth chart and the Ghat Chakra system.
Ghat Chakra is a unique concept in Vedic astrology that provides detailed information on the timing of events in one's life. It is a set of 27 different charts, each representing a specific period of time, also known as "Vimshottari Dasha"
A Ghat Chakra report can help you understand the timing of events in different areas of your life and how it may affect you. It can also provide you with predictions and insights into the potential effects of your Ghat Chakra on your life and help you plan accordingly.
Ghat Chakra reports are prepared by expert astrologers who use traditional techniques and the latest technology to analyze the position of the planets in a person's birth chart and the Vimshottari Dasha system. The report is based on the individual's birth chart and the current running Dasha.
Ghat Chakra reports are usually available once and are based on the individuals birth chart.
I recently received my free Ghat Chakra report and the benefits I got from it were outstanding. The report provided me with a deeper understanding of the timing of events in my life, which helped me to plan accordingly.
Raghav Sharma
689/5.0 (5 Reviews)
The predictions for different areas of my life were very accurate and the report also helped me to identify my strengths and weaknesses and how to use them to my advantage. The report also provided valuable advice on how to make the most of the positive aspects of my Ghat Chakra and how to mitigate any negative effects.
Sunita Ahuja
689/5.0 (5 Reviews)
I found the tips and suggestions provided in the report to be very helpful and practical. The astrologer who prepared the report was very professional and provided prompt and detailed responses to any questions I had. I highly recommend this free Ghat Chakra report to anyone looking to gain a deeper understanding of their life path and timing of events. It was a valuable investment in my personal growth and self-discovery.
Rahul Gandhi
689/5.0 (5 Reviews)